Proposed amendments to hand over agricultural land to families with many children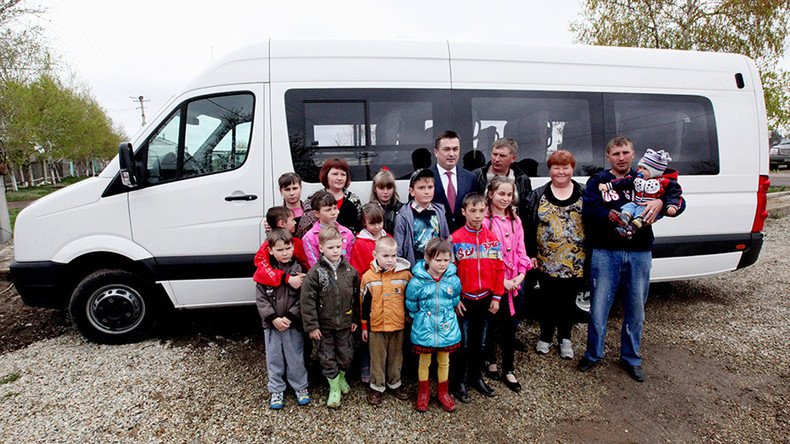 The new Russian law on impounding unused agricultural land could be amended with a clause allowing such plots to be given free to families with three or more children, the head of State Duma Committee for Agriculture has said.
"It is possible that we will write in this bill that land not used today could be used by families with many children. Plots of land confiscated because of improper use could be handed over to families of Russian citizens with three or more children who permanently reside in rural areas. Such families could then use the land for family farms of up to 50 hectares (123.5 acres)," MP Nikolai Pankov (United Russia) said in an interview with Izvestia daily.
READ MORE: Land of plenty: Duma committee approves bill for free handover of Russian territory to foreigners

The existing draft of the bill also stipulates that businessmen willing to launch their own agricultural enterprises can buy land from the state at prices fixed in state land registries. They would then be under an obligation to use it. If regional supervising bodies discover that the purchased land remains unused for a year, the owner would be fined (the proposed fines vary from 0.3 to 1.5 percent of the plot's registry price). If the situation continues for a second year, the land would be confiscated and passed to different owners either through an auction or by some other scheme.
"The essence of our proposal is not in confiscating and selling this land, but in developing mechanisms that would stimulate people into cultivating this land. We will hold auctions inviting as many people as possible, prioritizing those who already owns land and successfully cultivates it," MP Pankov told reporters.
The deadline for submitting amendments to the draft law on impounding non-used agricultural lands expires on May 15. Sources in the State Duma have told Izvestia that the second reading of the bill will be held before the end of June.
Currently Russia has about 198 million hectares of agricultural land and at least 28 million of these are state owned and unused.
READ MORE: Homestead Act for Russian Far East – Putin supports free land handout
The State Duma is also discussing a bill on free handover of land to Russians and foreigners who want to build homes or develop agriculture or tourism in the region. The scheme will only be applicable in the Far East Federal Region. Foreigners will only be allowed to use the land and enjoy full property rights after becoming naturalized citizens.
You can share this story on social media: