Russia asks world parliaments to denounce SS veterans march in Latvia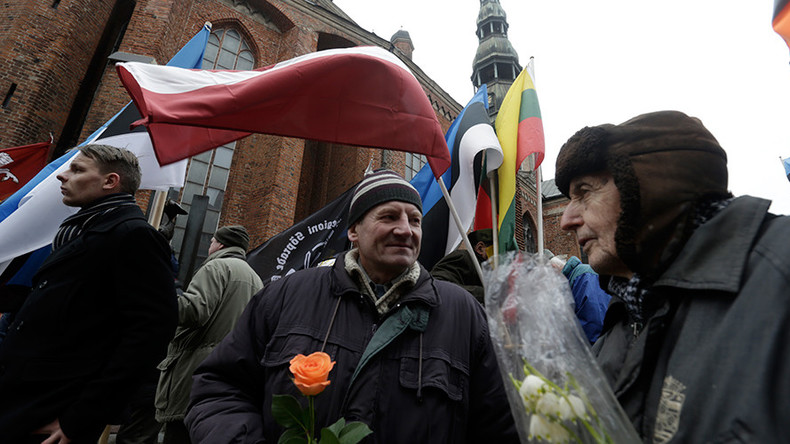 The State Duma in Moscow has voted to prepare an address to foreign parliaments and international organizations, calling on their colleagues to condemn the Latvian authorities for allowing Nazi veterans and their supporters to rally in Riga.
The address, prepared by the State Duma's security and foreign relations committees, was passed unanimously without abstentions. The authors of the document expressed their outrage over new attempts to rehabilitate Nazism and present Nazi criminals and their followers as heroes. Russian MPs condemned "the Latvian heirs of the Nazi ideology and their patrons in Brussels" and enjoined their colleagues from other nations to follow suit.
The event that caused such strong reaction in the Russian parliament took place in the Latvian capital Riga on March 16 - Legion Day, which was established in memory of Latvians who fought on Hitler's side in WWII. About 900 people participated in the event, according to Riga Mayor Nils Ushakovs.
"The extraordinary cynicism of the organizers of this event lies in the fact that it was held on March 16 – on the day in 1944 when Latvian units of the Waffen SS saw combat for the first time with Red Army troops in the Pskov region, on Russian territory" the address reads.
READ MORE: Hundreds of Waffen-SS veterans march in Riga, antifascists 'sanitize' square after them

Russian lawmakers noted in the document that in their view the Riga march had become possible because of the lax attitude of the EU and NATO and "those European and American politicians who want to use the political heritage of Nazism for their own political ends."
The address will now be forwarded to the United Nations, the Council of Europe, the CE's Parliamentary Assembly, the Collective Security Treaty Organization, NATO and others. The Russian president, government and the public chamber will also receive copies.
The 2016 Legion Day march was earlier condemned by international anti-fascist and Jewish groups such as the Simon Wiesenthal Center. "Some of the people prior to joining the [Latvian Waffen-SS] Legion served in Latvian security forces, which played an active role in mass murder of the Latvian Jews," the head of the Simon Wiesenthal Center said in comment to RT. "People who fought for victory over Nazi Germany should the ones considered heroes" he added.
READ MORE: Latvia's Waffen-SS veterans march alongside far-right lawmakers (VIDEO)