Prosecutors brand Madeleine Albright's NGO as undesirable in Russia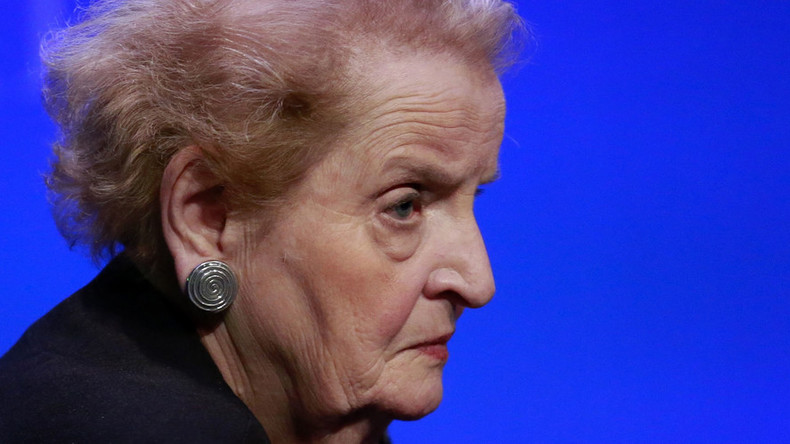 The Prosecutor General's Office has ruled that the National Democratic Institute, chaired by a former US secretary of state, poses a threat to Russian security and constitutional order. It proposed including the NGO on the list of undesirable organizations.
The proposal to blacklist Madeleine Albright's NDI group has been forwarded to the Justice Ministry, but as everything that is left is pure formalities the ban can be considered as already imposed.
According to NDI's website the group operated in Russia directly since late 1980s. In 2012 it closed its office in the country, but continued to implement its programs through partner organizations.
READ MORE: Foreign Ministry praises law banning undesirable foreign groups in Russia
Russia introduced the Law on Undesirable Foreign Organizations in late May 2015. The act requires the Prosecutor General's Office and the Foreign Ministry to make an official list of undesirable foreign groups and outlaw their activities. Once the group is recognized as undesirable, all its assets in Russia must be frozen, offices closed and distribution of any of its information materials must be banned.
If the ban is violated, both the personnel of the outlawed group and Russian citizens who cooperate with them face punishments of heavy fines, or even prison terms in case of repeated or aggravated offence.
About a month after the law came into force, Russia's upper house released a list of foreign organizations it plans to declare undesirable. The list consisted of 12 entries, including such groups as the National Democratic Institute, the US National Endowment for Democracy and the Open Society Institute also known as the Soros Foundation.
READ MORE: Communists want Soros Foundation branded 'undesirable' group
In late July, the Justice Ministry fulfilled the prosecutors' request to officially list the US National Endowment for Democracy as an undesirable group after law enforcers had discovered that the US NGO had spent millions on attempts to question the legitimacy of Russian elections and tarnish the prestige of national military service.
In December last year, the Justice Ministry added George Soros's Open Society Institute and the Open Society Institute Assistance Foundation as undesirable groups. Also in December the US-Russia Foundation for Economic Advancement and the Rule of Law (USRF) was added to the list.
You can share this story on social media: