Communist MPs demand parliamentary probe into police break-up of meeting with voters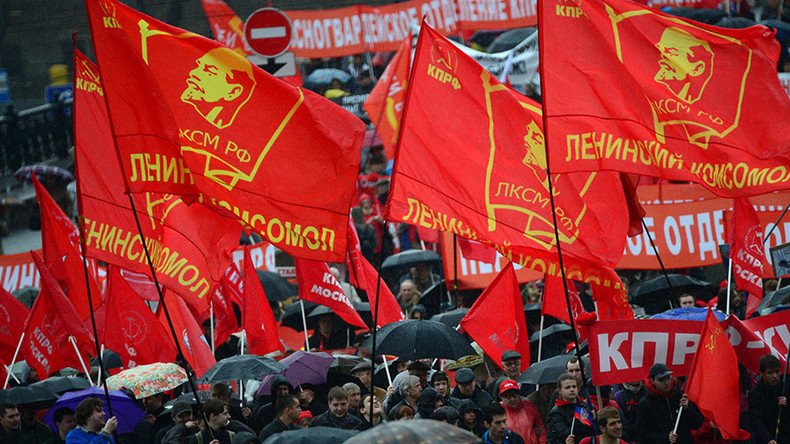 The Communist Party has demanded an investigation into a recent incident in which police first tried to prevent and then later dissolved a public meeting between lawmakers and voters in Moscow, reportedly inflicting injuries to a lower house MP.
The head of the Communist Party's Moscow City Committee, Valery Rashkin MP, told Kommersant daily that 90 lower house lawmakers had signed the petition asking State Duma speaker Sergey Naryshkin to start a parliamentary enquiry into the incident, which took place in mid-December last year.
Back then, several Communist Party deputies held a meeting with voters in central Moscow, which according to Rashkin was attended by about 1,000 people. The city police had allegedly attempted to disrupt the event before it had even started by blocking entry to the square where it was due to be held and telling the public the meeting had not been coordinated with the authorities. When people refused to leave, law enforcers started to push them away from the square, detaining several demonstrators and inflicting light injuries to lower house MP Aleksandr Potapov, who showed his ID and tried to persuade the police that the meeting between voters and lawmakers was legal and required no licensing.
READ MORE: Duma introduces criminal responsibility for repeated violations at rallies
"In the light of forthcoming elections many State Duma MPs are interested in the probe into these events because they feel that their immunity status is now under threat," Rashkin told reporters. "It is very important for our country that no one threatens the constitutional right of voters to meet the lawmakers," he added.
Another opposition party MP – Aleksandr Ageyev of the center-left party Fair Russia – agreed with his Communist colleagues. "The authorities take advantage of their abilities and only license rallies in inconvenient places. Because of this we use the only opportunity we have and hold meetings with voters in the streets," he told Kommersant.
READ MORE: Russian unions blast anti-rally law, plan moving protests to Poland
The current Russian Law on Rallies, introduced in 2012, demands that the organizers of any street action coordinate it with the municipal authorities. Holding unlicensed rallies is punishable with heavy fines, and repeated violators of public order at rallies can be sentenced to up to five years in prison.
However, large cities have dedicated places where rallies can be held without a license – sites which the Russian mass media have dubbed "Russian Hyde Parks." The rules for events are regulated by regional legislatures and differ across the country, and single-person pickets can be held without a license or any notification of the authorities.
You can share this story on social media: