Crimeans to vote on electricity contract with Ukraine after pylon blown up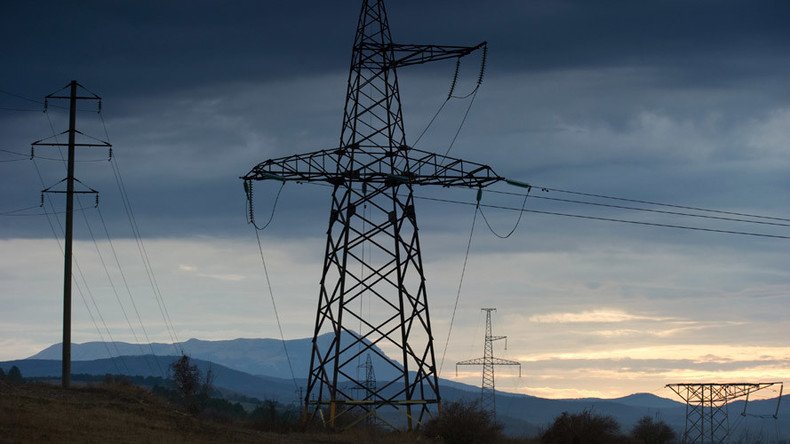 Vladimir Putin has ordered a public survey in Crimea to find out whether an electricity supply contract with Ukraine would be welcomed by residents. Crimea has lost at least one-quarter of its power after Ukraine halted supplies, while another pylon has been blown up.
Russian Energy Minister Aleksandr Novak told journalists Thursday that President Putin has instructed a national opinion research center to learn whether Crimeans support the very idea of receiving electricity from Ukraine, the country Crimea voted to withdraw from in March 2014.
"The president ordered to make an urgent social survey in Crimea and the city of Sevastopol ahead of signing a new electricity supply contract with Ukraine," Novak told journalists.
The All-Russian Public Opinion Research Center (VTsIOM) has already conducted a phone survey. The results are expected to be presented on January 1.
The poll includes two questions. The first one inquires whether Crimeans would support signing a contract for electricity supply that mentions Crimea and Sevastopol as integral parts of Ukraine, something the Kiev authorities has been insisting upon. Novak said that Moscow has always disagreed with such wording in the contract.
The second question asks if Crimeans are ready to suffer a certain shortage of electricity for the following three to four months (in case they vote against signing a contract with Kiev). Ukraine used to provide around 70 percent of Crimea's electricity.
However, the head of the Crimean Republic, Sergey Aksyonov, says he personally is against the extension of the electricity supply contract with Ukraine.
In November, Ukrainian ultranationalists from the Right Sector group blew up electricity pylons supplying two electricity power lines to Crimea, and blocked rescue teams from restoring the power supply.
Since then, Crimea has been suffering constant blackouts. Russia boosted its own supplies to the republic and flew in emergency generators.
"Ukraine has for a long time disrespected the contract for power supplies to Crimea," Novak said. "We have seen electricity pylons blown up, some armed mavericks who allegedly did not allow repairs to them, and lots of other nonsense."
On December 30, the recently restored electricity supply from Ukraine to Crimea was disrupted once again. A day later, authorities in the Kherson region of Ukraine, where the electric cable was damaged, officially acknowledged that the power cut was caused by a new explosion that damaged a electricity pylon. They did not say who was behind the blast.
Aksyonov called the disruption of the electricity supply to Crimea a terrorist act, adding that "Crimeans have had a good lesson" and Russia will deal with the situation.
Ukrainian electricity company Ukrenergo says it will fix the pylon by Thursday night. The cutoff coincided with the expiry of a power supply contract between the company and Crimea.
You can share this story on social media: