Some 50 protesters detained in Moscow during unsanctioned rallies on Constitution Day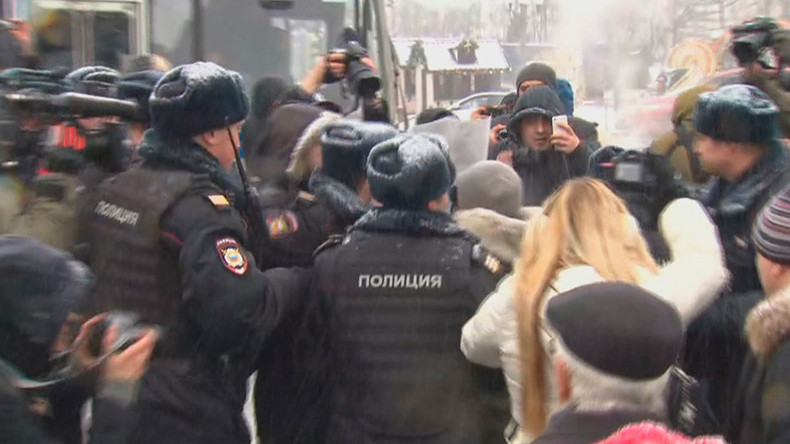 Protesters have been detained in two separate rallies in the center of the Russian capital on Saturday, after refusing to leave unsanctioned gatherings after being warned by police.
Dozens of people gathered near Pushkinskaya square in Moscow to take part in a "March of Change," organized by opposition activists on Russia's Constitution Day, December 12. Activists from the Yabloko party planned to carry out solo pickets, party leader Sergey Mitrokhin claimed.
Solo pickets, with protesters out of sight of one another are technically legal in Russia without prior coordination with authorities, unless they are united by a "single concept and overall organization."
Fourteen activists were detained during the rally and taken to a nearby police station, including Yabloko's leader himself, Mitrokhin said on Facebook.
The protest had not been approved by the city authorities, who cited preparations for the winter holidays in the city center as being among the reasons not to sanction the rallies, TASS reported.
Around 30 more people were detained for refusing to disperse once warned at another unsanctioned mass gathering, Interfax reported citing a source in law enforcement. Human rights activist Lev Ponomarev, journalist Aleksandr Ryklin and one of the authors of the Constitution of the Russian Federation, a former aid to president Boris Yeltsin, Georgy Satarov have been detained by police, the source said.
The constitution was ratified on December 12, 1993, following a national referendum.