Communists declare 2016 'Year of Stalin'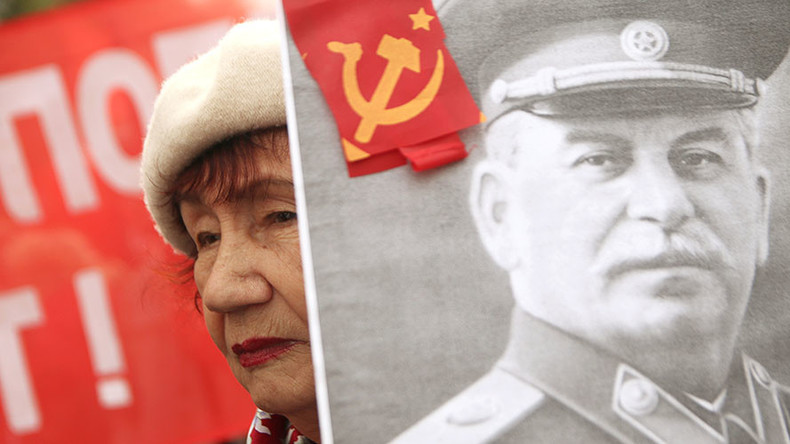 Communists in the central Russian city of Penza have announced a plan to mark the 80th anniversary of the 1936 USSR Constitution by declaring 2016 the "Year of Stalin" and opening a museum dedicated to the controversial Soviet dictator.
"Stalin's Constitution will be 80 in 2016," said Georgiy Kamenev, head of the Penza regional branch of the Communist Party, told local news website PenzaNews. "We have decided to celebrate the coming year as Stalin's Year."
He added: "This is necessary also because currently there are a lot of attacks on Stalin and on his period in Soviet history. Attack is the best defense. We will actively promote historical facts about this time and about Joseph Stalin's personality."
The politician also announced that in the coming year the city will see the opening of a Stalin Center, a museum and meeting place used for events from cinema screenings to public discussions. The events will include "Stalin's Readings," a large-scale conference attended by prominent researchers and journalists, scheduled for early March.
In its statement dedicated to the initiative, the press service of the Penza branch of the Communist Party noted that city residents had received the idea to immortalize Stalin with great enthusiasm. It also wrote that people in Penza were putting fresh flowers on Stalin's monument "practically every day."
READ MORE: Communists want Stalin's name back on Russian map
The Communist Party often uses Stalin's name and image to promote itself, and almost every time such steps are met with opposition from liberals, prompting heated discussions in the media.
In February 2015, Communist Party leader Gennady Zyuganov appealed to President Vladimir Putin to rename the city of Volgograd as "Stalingrad," and also to give Stalin's name and a monument to a square in Moscow.
When a similar proposal was made in 2013, polls showed that 60 percent of Russians were against the renaming. Vladimir Putin's press secretary, Dmitry Peskov said at the time that Kremlin officials had never considered renaming Volgograd as Stalingrad – and did not plan to put this issue on the agenda in the future.
The only concession made in 2013 was the decision of the Volgograd City legislature to have the city renamed as "Stalingrad" for just a few days each year – on the dates of major holidays and commemorative dates. On these days, regional officials and media are officially required to use the name "Stalingrad" in documents and reports.
You can share this story on social media: