Communists call for 25-yr ban on changing street names, knocking down statues
Published time: 26 Aug, 2015 13:35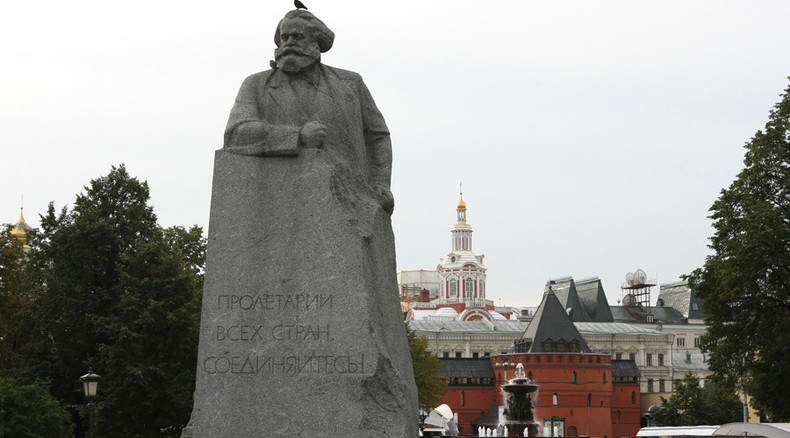 The Communist Party in Moscow has proposed slapping a 25-year moratorium on the renaming of streets and squares, and the removal of monuments. Attempts to delete facts from people's memories are harmful to Russian history, the party says.
"The city committee of the Communist Party of the Russian Federation demands to stop the political sabotage targeting the victories and heroes of the Soviet Union and the whole millennium-long history of our motherland. We ask to introduce a 25-year moratorium on any topographical renaming and on removal of monuments," Kommersant daily quoted the proposal as saying.
Controversial historical issues are often used by Russian political movements to get public attention and secure support. Among such topics are the suggestion to remove Vladimir Lenin's body from the Mausoleum on Red Square, to reinstall the monument to KGB founder Felix Dzerzhinsky on a square in central Moscow and to rename the metro station and city district currently named for the Bolshevik who supervised the execution of the Romanov family in 1918.
The Communists also said they disagree with the very concept of a memorial to victims of political repressions currently being pondered by Moscow city authorities. They said that future monuments must commemorate not only of those who were unjustly prosecuted during the Soviet period, but also of victims of all other regimes.
Royal descendants want Romanovs' killer's name erased from Moscow map
The committee emphasized in its address that the Communist party was not against the idea of a monument to victims of repression, but that it should be erected to all those who have suffered from various arbitrary actions of the authorities.
The Communists' appeal was released about a week after Russian Prime Minister Dmitry Medvedev approved the concept of state policies aimed at remembering the victims of political repression. The government said in an explanatory note that the main objective of the document was to improve the cooperation between state authorities and the institutions of civil society, and the creation of better conditions for the country's development.
The proposal calls for citizens to have free access to various archives documenting repression, and to for the building of monuments and memorials to victims open to all members of the public for free.
Kommersant reported that the Communists made their proposal shortly after the administration of the Voikovsky District in Moscow held public consultations over the possible renaming of the district and the Voikovskaya metro station. Both the district and the metro station are named for Bolshevik official Pyotr Voikov, who worked in the Cheka, the first Soviet security service, and was in charge of detaining Tsar Nicholas II and his family, and then of their execution and the disposal of their bodies.
A joint commission dealing with renaming places in the city is due to make a decision on the possible renaming of the district and metro station by the end of September.