Duma chief blames US for instigating global instability through intrigue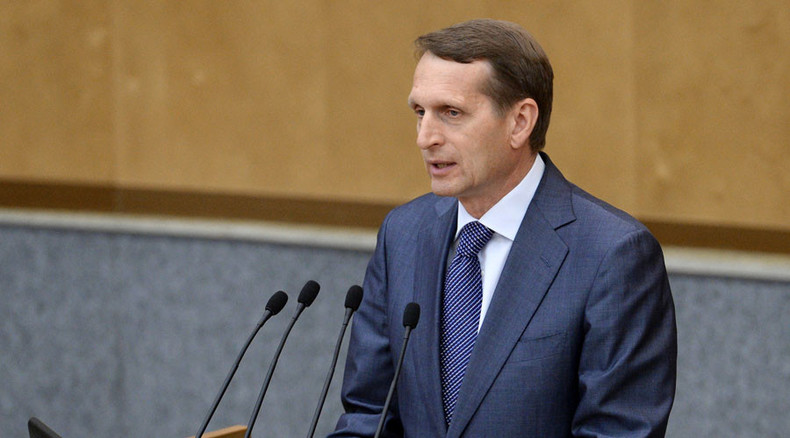 The Russian Lower House speaker has warned of Washington's plans of global domination through sowing chaos, and said that the US would continue to provoke anti-Russian sentiments in Europe through lies and propaganda.
In an article 'August of Provocations' published in the government daily Rossiiskaya Gazeta on Monday, Sergey Naryshkin writes that the clear anti-Russian course of the US administration, intensified in late July, will become even more acute in the near future.
The Duma speaker maintains the cause is America's enormous external debt and that its government has designs on impoverishing other nations, including Russia, to alleviate this burden.
"Today, as the situation is strained across the world, we should closely watch any political intrigue prepared on both sides of the Atlantic. It is important to see and analyze anything that is created in the West and offered to various international organizations," Naryshkin wrote.
The most vivid example of such intrigue was the recent voting in the UN Security Council on an unprecedented and extremely politicized subject - the international tribunal into the Malaysian Boeing disaster in Ukraine, according to the politician's article. Naryshkin adds that the Russia veto on this initiative was inevitable just as was the veto on the resolution on Crimea in March 2014. "Do you think anyone seriously expected a different outcome?" he asks.
READ MORE: Russia vetoes MH17 tribunal draft at UN Security Council
The top Russian parliamentarian noted that he had no doubt the United States would not stop at this. Washington will keep imposing this discussion on the international community and it will present any decision on any level as something that licenses its intervention.
Speaking on the ultimate objective of Washington's policies, Naryshkin noted it remains the same: "Their external debt is enormous and looting foreign states is a method they are used to." He added that they use the same leverages as before, which in his view are no longer working, such as issuing more US dollars, maintaining total control over NATO and illegal eavesdropping of European leaders. However, America's elite still intend to keep the US Dollar as the main international currency and lay their hands on other nations' natural resources.
The Duma chief also warned that Washington "would continue to zombify people with their lying, present their wishes as facts and create new motives for anti-Russian sentiments in Europe."
At the end of the article, Naryshkin calls upon his readers to brace themselves for a forthcoming and deeper crisis in international relations, but he expresses confidence that Washington's future provocations will fail. "As for the international tribunal, it will take place once and for a completely different reason than today's backers want it to be. And we will all live to witness that."
Last week, Russian Foreign Minister Sergey Lavrov said in an interview with the Singapore-based Channel News Asiathat that the ongoing investigation into the MH17 Malaysia Airlines plane crash in eastern Ukraine was "not independent, not comprehensive and not truly international."
Lavrov was adamant in saying that Russia wants "the truth to be established and the culprits to be brought to justice." However, the Russian foreign minister admits he is becoming frustrated as the investigation was "not independent, was not comprehensive and not truly international. All our attempts to push the investigation, to make it transparent, to provide information… all our attempts to get answers to the questions which we formulated through our professional civil aviation agency, all these were just stonewalled," he said.
READ MORE: MH17 probe not truly independent and intl tribunal aimed at hiding its ineffectiveness – Lavrov
In late July, Russia vetoed a draft of a UN Security Council resolution calling for an international tribunal on the MH17 crash, classifying the plane's downing as a threat to peace and security. Despite this motion, Moscow is ready to assist the investigation into what caused the downing of the Malaysian Boeing 777, Russian UN envoy Vitaly Churkin told the international body.
You can share this story on social media: