'Moscow has proof of Kiev's crimes against humanity' – Putin's press secretary
Published time: 13 Jul, 2015 12:31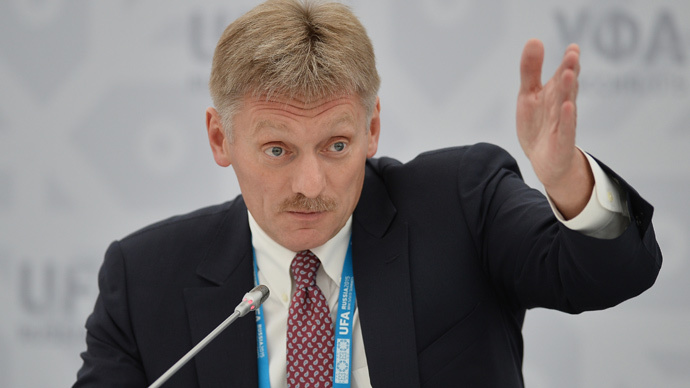 Russia's investigation into the conflict in Ukraine has indicated that the pro-Kiev forces committed crimes against humanity in Donbass, Vladimir Putin's press secretary Dmitry Peskov told reporters on Monday.
"The Russian side is holding its own investigation concerning a number of episodes, and even on the basis of these preliminary investigation results we can claim that there were episodes in Donbass that can be qualified as crimes against humanity," RIA Novisti quoted the presidential spokesman as saying.
However, Peskov told reporters the decision on launching an international tribunal into these crimes should be decided by bodies who have received such requests, in particular by the United Nations and its Security Council.
Last week, activists from the Russian Public Chamber reported they intended to file about 17,000 lawsuits from Ukrainian citizens to the European Court of Human Rights, seeking about $5.6 billion in compensation from the Kiev government over numerous violations committed by the Ukrainian military in Donbass. Russian activists said the court had already accepted about 400 cases and was considering 500 more, and that the first process in one of these cases should start before the end of this year.
Last year, the Russian Foreign Ministry released a major report on human rights violations, abuse of law, torture, inhuman treatment and other crimes perpetrated by the Ukrainian military against the civilian population of the Donetsk and Lugansk regions. The report was dubbed the 'White Book'. The ministry has twice updated it since its initial release and says the facts described in this document have been confirmed by international rights groups, such as Human Rights Watch.
READ MORE: International human rights bodies confirm Russia's White Book reports on Ukrainian abuse
According to the UN High Commissioner for refugees, Russia is currently hosting about 1 million Ukrainian citizens, who fled the war in their home regions. The Russians offered these people simplified registration and various types of aid. The influx of Ukrainians put the Russian Federation number one in terms of the amount of global asylum applications in 2014, and by the same token Ukraine has the greatest number of refugees, surpassing even Syria.