Russia will never give in to sanctions pressure – deputy FM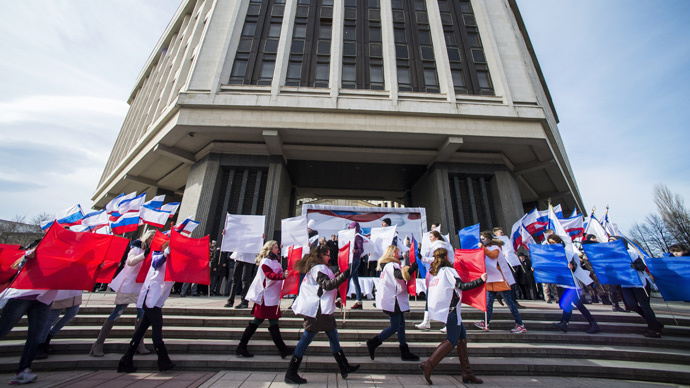 Moscow will never reverse its decision to accept the Crimean Republic into the Russian Federation, even if the economic sanctions prompted by this step maintain forever, deputy Foreign Minister Sergey Ryabkov says.
"Our own restrictions depend on the EU actions. Our position remains firm – we were not the first to introduce the restrictive economic measures and all of Russia's actions are a reply based on the principle of reciprocity," he told reporters on Thursday. Ryabkov noted that he personally was convinced that the Russian sanctions would be lifted at the very same moment when the European Union ones are removed. "All foodstuffs that are currently embargoed would return. I see no reason to worry about this."
At the same time, the senior Russian diplomat said that it was possible that the foreign sanctions will stay forever, as the Russian authorities had no intention of changing their position on reunification with Crimea.
"Thinking that Russia would change its policies due to the ongoing sanctions is one of the greatest mistakes in the modern foreign policy of the EU and the USA."
Ryabkov added that Russia was not even going to start the discussion on the issue.
"The sanctions introduced against the Russian Federation were absolutely illegitimate. If we start to discuss the criteria of their cancellation this would mean some sort of legitimization of these steps."
READ MORE: Medvedev promises symmetrical response if new anti-Russian sanctions are introduced
In mid-June this year the head of the State Duma's Foreign Relations Committee, Aleksey Pushkov, said new anti-Russian sanctions would only cause further alienation between Russia, but will hardly provide any help to Ukraine.
Shortly before this, senior Russian officials, including Prime Minister Dmitry Medvedev, the head of the Presidential Administration Sergey Ivanov, and presidential spokesman Dmitry Peskov, promised that Russia would prolong its counter-sanctions if Western nations persist in their anti-Russian policies.
In April, Medvedev said in a parliamentary speech that the Russian society and authorities can jointly withstand any political or economic pressure from abroad.
In early March, Peskov commented on US President Barack Obama's decision to prolong the US sanctions against Russia, saying that the continued pressure would never affect Moscow's foreign policy. He called the sanctions "a double-edged sword" that equally hurt the Russian economy and businesses in the countries that had introduced them, as well as the world economy as a whole.
Russia currently bans the imports of meat, poultry and fish, cheese, milk, fruit and vegetables from the United States, EU countries, Australia, Canada and Norway. The embargo was introduced in August last year for a one-year term, with possible prolongation if the situation doesn't improve.
You can share this story on social media: