Russia will accept no more lectures from US – senior diplomat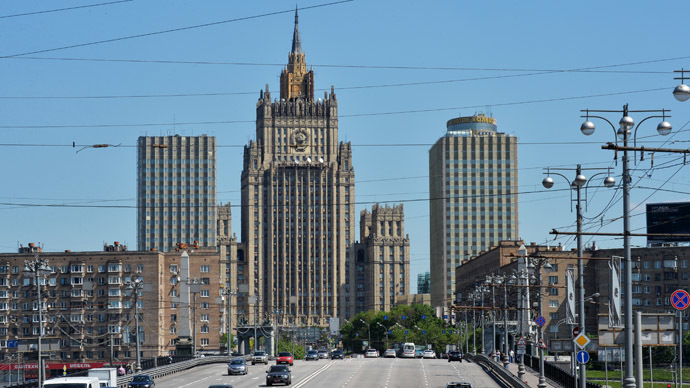 The dialogue between Russia and the United States can only be equal and must not amount to lectures on democracy-building, says the Foreign Ministry's envoy for human rights.
"If they want to lecture us on how we should build our democracy, I suggest they rather deliver such lectures in some US university," Konstantin Dolgov told reporters on Tuesday.
The official noted the Russian Presidential Commission had a special group for the development of civil society that sought cooperation with US rights organizations. However, the American side expressed concern over human rights and decided to freeze cooperation. "This was simply illogical," Doldov said.
The envoy said the Russian side "shed no tears" over the US decision, adding that civil societies from both nations remained in touch. He pointed out that Russia has recently received signals from the United States on possible resumption of dialogue. "We are of course fully prepared for such dialogue," Dolgov said.
However, the envoy also outlined major problems that remained in Russia-US relations regards human rights. These involved scandals with adopted Russian children, who were abused and sometimes even killed by their US foster parents. Another sticking point is the repeated arrests of Russian citizens in other countries and their subsequent transportation for trial in the US, which is in violation of the norms of international law.
"Dialogue is always a two-way street. The tutor-student formula just doesn't work. This can be only a dialogue between equals and we are ready for such dialogue," the Russian official said.
READ MORE: Foreign Ministry concerned over US 'hunt' for Russian citizens in foreign countries
Senior Russian diplomats, including Foreign Minister Sergey Lavrov, have repeatedly accused their US colleagues of arrogance and an inability to conduct negotiations on an equal basis. Lavrov noted that such attitudes only caused bewilderment and contributed little to the settlement of conflicts.
Also, recently, Vladimir Putin's spokesman Dmitry Peskov commented on the actions of the US ambassador to the Holy See: Kenneth Hackett told Pope Francis to take a tougher stance during his meeting with the Russian president. Peskov noted in a subsequent press statement that the ambassador's advice on what concerns should be raised at this summit, was an attack on sovereignty and an attempt to lecture the Pope.
"This is surely a blatant attempt in suppressing the sovereignty of other nations," Peskov told Russian media. "This is what the Russian president never agreed with, and now categorically opposes." Lecturing or even "pretending to have the right to lecture the Pope of Rome" is surely a "new move" in international diplomacy, and a "big responsibility," Dmitry Peskov noted.