Putin: 12 more countries interested in working with SCO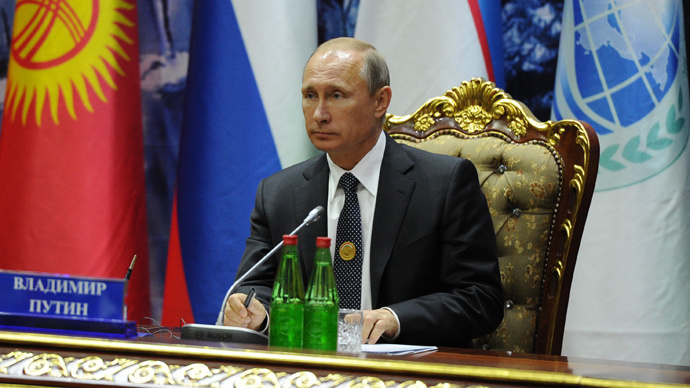 The Russia-led Shanghai Cooperation Organization is gaining more weight with a dozen new nations showing interest in cooperation, President Vladimir Putin said at a meeting with foreign ministers of the bloc.
"Other countries would like to strengthen their contacts with our organization. This is natural as it gains more weight and importance because it addresses the most important questions for our nations and for the region as a whole," the Russian president told ministers.
"Our partners from 12 countries are showing interest in its work, apart from the current members of the organization," Putin added. SCO officials are now studying the possibility of accepting India and Pakistan into the bloc, he said.
Putin said that the two biggest projects implemented under the aegis of the Shanghai Cooperation Organization, the Silk Road and the Eurasian Economic Integration, were in the interests of all the members of the SCO.
Wednesday's meeting of SCO foreign ministers is the final stage of preparation for the organization's summit that takes place in Russia's Ufa in July.
READ MORE: SCO leaders support Putin's peace plan for Ukraine
The SCO unites Russia, China and the former Soviet republics of Kazakhstan, Tajikistan, Uzbekistan and Kyrgyzstan, all of which are Russia's allies in trade, politics and defense. India, Pakistan, Iran and several other nations currently hold observer status in the organization. The combined population of SCO member states is 1.45 billion people, a fifth of the world's total population.
Apart from economic cooperation, SCO coordinates joint security projects, such as countering the growing threat from Islamic State and possible instability in Afghanistan after the removal of NATO-led and US forces from that country.
You can share this story on social media: