'Below the belt': Foreign ministry slams Western diplomats for disclosing Russian blacklists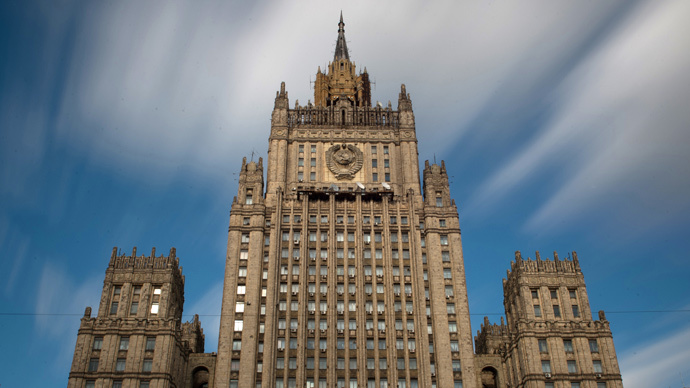 The Russian Foreign Ministry has expressed disappointment at their Western colleagues for publicizing lists of people subject to personal sanctions in Russia. They called such measures a threat to mutual trust.
"When European partners surpass all boundaries, it can't cause anything but disappointment. How can we trust such partners?" Deputy Foreign Minister Aleksey Meshkov told Interfax.
The comment came soon after Finnish mass media published a list of people included in Russia's blacklist, introduced as a reply to the Western policy of personal sanctions that started in 2014.
Meshkov elaborated that the Russian blacklist was formed over 12 months ago, after a similar action against Russian officials was undertaken by the European Union. He emphasized that every inclusion in the list was backed up by a number of reasons. The diplomat also told reporters the list was transferred to European diplomats after repeated requests and on condition of non-disclosure.
"We do not consider this as a political demarche. We simply wanted to ease the lives of those who are on this list. All that happened afterwards lies completely on our European partners' conscience," Meshkov noted.
The official explained the initial request from the EU was apparently prompted by the need to save time and effort of people, who suspected they were banned from entering Russia, and didn't want to apply for visas if they were to be refused anyway.
Foreign Minister Sergey Lavrov commented on the situation with blacklists on Monday: "We didn't want to make this public. When the European Union introduced restrictions on 150 Russian citizens we did the same, but targeted a smaller number of EU citizens. We didn't want to follow the EU's bad example and turn the disclosure of these names into a loud campaign," Lavrov said.
Deputy director of the Foreign Ministry's Information Directorate, Mariya Zakharova, described Russia's stance on the problem in an extensive Facebook post published on Sunday. She said the blacklist was sent to EU officials confidentially and after repeated requests, only to be immediately disclosed to the press.
"Gentlemen, this was below the belt," Zakharova wrote. She also claimed Russian diplomats had long ago stopped being surprised at the dishonesty of their Western partners, but this time it was on a shocking scale.
"Sanctions policies not approved by the UN Security Council are an aimless action that has never yielded any positive result," she wrote.
READ MORE: Russia slaps personal sanctions on 200+ foreign citizens – report
In mid-March this year, popular Russian daily Izvestia said Moscow had slapped sanctions on over 200 foreign officials known for their anti-Russian positions and actions. The newspaper concentrated on the US section of the list that included Deputy National Security Advisor Caroline Atkinson, and firebrand Arizona Senator John McCain. Izvestia also quoted an unnamed Foreign Ministry source as saying that further expansion of the Russian sanctions lists was possible if Western nations choose to continue the standoff.