Obama acknowledges he can't isolate Russia – senior Duma MP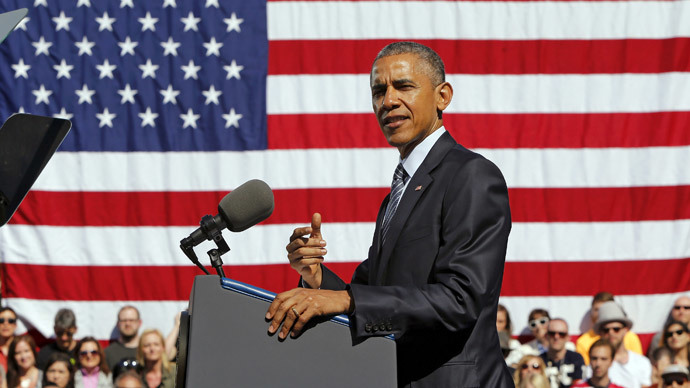 The international participation in Russia's Victory Day commemorations proves that the US policy of maximum political isolation for Moscow has failed, claims State Duma's Foreign Relations chief.
"After the 70th anniversary of the Great Victory [in WWII] it has become evident that the policy of maximum political isolation of Russia is not yielding the expected results," Aleksey Pushkov said at the lower house plenary session on Friday.
"If today, after May 9, Obama would again claim that he had isolated Russia he would simply be laughed at," he added.
Pushkov told fellow lawmakers that it was impossible to talk about isolation when in just three days Moscow was visited by the leaders of China, India, Egypt, Kazakhstan, Azerbaijan, Armenia, Vietnam, Germany, the Czech Republic, Cyprus, Slovakia and many other states.
He noted that Barack Obama himself "could not stand his own isolation" and sent Secretary of State John Kerry to Russia very soon after the celebrations. "By doing this Obama practically recognized that it is impossible to isolate such countries as Russia, that by trying to isolate Russia one can be left on the side of the political process and get deprived of leverage in international politics."
At the same time the MP noted that he did not expect the United States to immediately abandon their policies towards Russia or stop using all available resources in this struggle. "But this definitely means that the attempt of cavalry charge on our positions has failed."
Pushkov also said in his Duma speech that the strengthening alliance between Russia and China was a joint reaction to the "Western policy of threats, pressure and sanctions." He noted that this alliance was Barack Obama's greatest failure in all his years in office.
"In reply to the pressure Russia has not curled in some remote geopolitical corner, but started to actively use its wide possibilities and found support of a number of states, most importantly from such a great power as the People's Republic of China," he stated.
READ MORE: Russia ready to oppose any outside pressure - Medvedev
The address echoes the April statement of Prime Minister Dmitry Medvedev, who told senior members of the majority United Russia party that the events of the past year proved that the Russian community and authorities can jointly withstand any political or economic pressure from abroad.
In early March, President Vladimir Putin's press secretary Dmitry Peskov said that the continued pressure from Obama and his administration would never affect Moscow's foreign policy. He also called the sanctions "a double-edged sword" that, although causing certain discomfort to the Russian economy, was also hurting businesses in the countries that had introduced them, not to mention the world economy as a whole.