Gorbachev accuses western leaders of disrespect toward victors over Nazism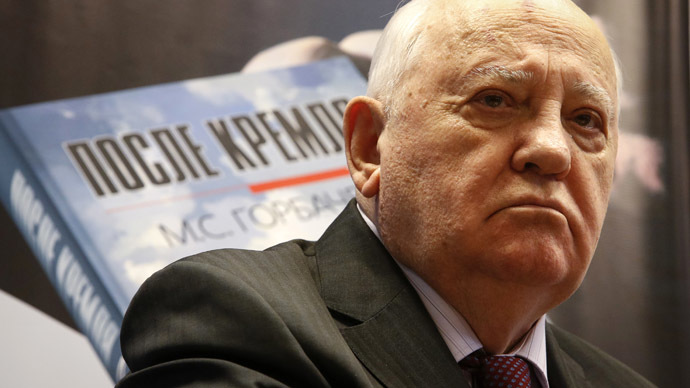 Mikhail Gorbachev has said that western government officials who refused to attend the Victory Day celebrations in Moscow were showing disrespect to nations that had defeated Nazism and to all the people who perished in this fight.
Ignoring the opportunity to demonstrate one's attitude towards the war against Nazism is also disrespectful to the boundless courage shown by all people who fought against the "brown plague," the former Soviet president said in an interview with Interfax.
"I am convinced that without Russia it would be impossible to achieve victory," Gorbachev said. He added that if it was not for the Soviet Army, Nazism could have spread to unimaginable boundaries, and maybe even have kept spreading to this day.
"Some politicians might fail to understand this, but people of the world do understand," he said.
Gorbachev said that he saw a difference between the American people and American officials, and explained the refusal of US President Barack Obama to attend the 70th anniversary celebrations of Victory Day in Moscow by the fact that the Washington administration was trying to solve some urgent ideological and political tasks. However, he also described this decision as "lacking even a drop of common sense."
Gorbachev also blamed the US administration for applying pressure on German Chancellor Angela Merkel, who also has refused to come to Moscow for Victory Day. He praised Merkel's consistent anti-fascist stance and recalled that she will be visiting Moscow on May 10 as a representative of the "new Germany, freed from Nazism by the Soviet Army and by those Germans who were fighting against the brown plague."
READ MORE: West rewrites history to alienate Russia – Kremlin administration head
Leaders of 27 nations have confirmed their participation in the forthcoming Victory Day events. Some politicians, such as Belarusian President Aleksandr Lukashenko, have turned down invitations, but emphasized it was not an unfriendly move, as they had to take part in similar celebrations in their home countries.
Obama will not arrive in Moscow for the celebrations and State Department spokesman Jeff Rathke has explained this decision by the fact that the military units that will be marching on Red Square on the parade have been stationed in Crimea.
This comment has already drawn criticism from the head of the State Duma Foreign Relations Committee, Aleksey Pushkov.
"The United States' position regarding the 70th anniversary of the victory is deeply immoral. We sacrificed 27 million lives in the struggle against Hitler. No Obama is capable of deleting this fact," the Russian politician wrote in his Twitter microblog.
Позиция США в отн.70-летия Победы в Москве глубоко аморальна.Мы отдали 27 млн.жизней в борьбе с Гитлером. Никакой Обама этого не перечеркнет

— Алексей Пушков (@Alexey_Pushkov) May 6, 2015
You can share this story on social media: