Putin blasts 'cynical attempts to rewrite history' at Russia-China WWII conference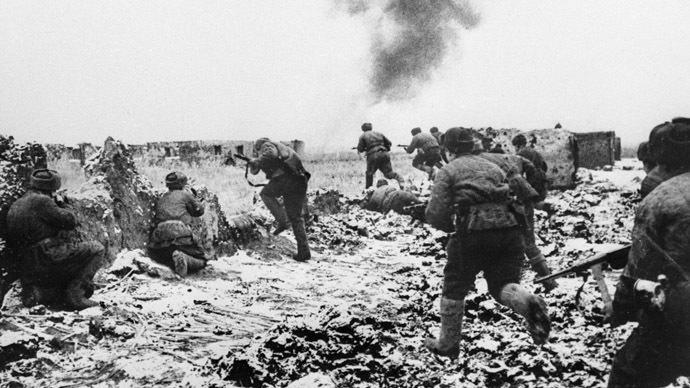 The Russian president has denounced any attempts to rehabilitate Nazism as immoral and dangerous in his message to the Russian-Chinese conference dedicated to the 70th anniversary of the end of World War II.
"We consider the cynical attempts to rewrite history so that it matches someone's urgent political interests, to rehabilitate Nazis and their collaborators, as absolutely inadmissible," Vladimir Putin said in his address to members of the Russian-Chinese conference on the role of USSR and China in the victory over Nazi Germany and militarist Japan in the Second World War.
"Such actions are not only immoral, they are extremely dangerous as they push the world towards new conflicts, cruelty and violence," the Russian leader added.
Vladimir Putin also praised the role of the Chinese people in securing victory and emphasized that Russia would always honor the heroism of Chinese soldiers and their input in defeating the enemy.
The president expressed hope that the conference would promote a truthful approach to history and to the upbringing of the younger generation in the spirit of patriotism, humanism and international friendship.
READ MORE: Putin blasts WWII history rewriting as lies aimed at weakening Russia
Putin has repeatedly addressed the issue of rewriting history in view of the 70th anniversary of Russia's victory in the war with Nazi Germany. In Mid-March, he said that the objective of politicians who make such attempts was "to undermine the power and moral authority of modern Russia and deprive it of the victor nation status with all consequences that would follow in international law." He added: "They want to divide peoples and instigate conflicts among them, to use historical lies in geopolitical games."
In January, Putin spoke at the Jewish Museum and Tolerance Center in Moscow and stated that another reason for political forces attempting to rewrite the history of WWII was the desire to hide one's own disgrace, cowardice, hypocrisy and treachery, as well as the intent to justify the direct or indirect collaboration with Nazism.
You can share this story on social media: