Duma chief urges talks on Russia-EU union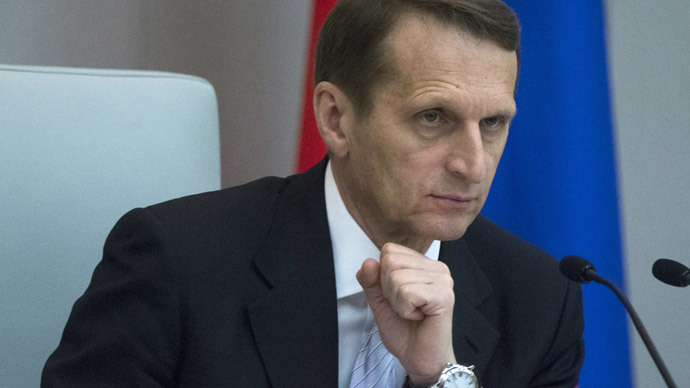 The chairman of the Russian Lower House, Sergey Naryshkin, has backed the idea of a future merger between the Russian Federation and the European Union, and suggested immediately starting consultations on the matter.
Naryshkin expressed his position in a column published in the Tuesday issue of the Komsomolskaya Pravda newspaper. The comment was a reaction to the recent statement of Czech President Milos Zeman, who confessed to having a dream that one day Russia would join the EU.
"Zeman did not exclude the possibility of EU nations joining the Russian Federation. Our country has repeatedly admitted the possibility of a merger between two regional unions – the Eurasian Economic Union and European Union," he wrote. Naryshkin added that in his view the plan wasn't a fantasy because Russia "has always been and will always remain in the common family of European people."
The State Duma speaker admitted the topic of the common Russian-European agenda must be discussed separately, but noted this discussion should be started as soon as possible. "Now is the time not only to dream about it but also to talk out loud and start consultations."
READ MORE: Czech president says his 'doors are closed' to US envoy over Moscow WWII visit comments
In December last year, President Vladimir Putin said in a public speech that the Russia-led Eurasian Economic Union had huge potential to expand, and that the bloc was open to cooperation with partners in the East and West.
"The increase in the number of members is beneficial to the union itself. It boosts its market capacity and contributes to the strengthening of trade and economic ties, and to the launching of new investment projects," Putin said at the EEU summit in Moscow.
The Eurasian Economic Union is an economic and political bloc established in 2014 to unite Russia, Belarus, Kazakhstan and Armenia. The treaty forming it will come into full effect on January 1, 2015. The union's population is about 171 million people and its gross domestic product is expected to reach $3 trillion next year.
You can share this story on social media: