St. Pete MPs propose 'anti-parasite' constitution changes
Published time: 27 Apr, 2015 11:08
Edited time: 27 Apr, 2015 13:09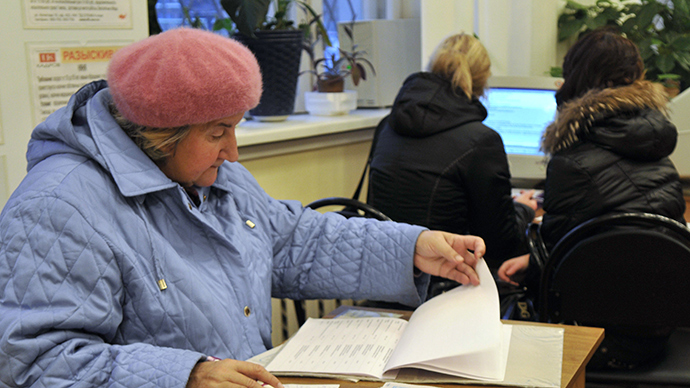 Lawmakers in Russia's second-largest city seek mandatory community service for those who refuse work even when acceptable jobs are available.
The bill, prepared by Andrey Anokhin of the center-left Fair Russia party, has already been approved by the St. Petersburg legislature and will be submitted to the State Duma in the near future, the daily Izvestia reported on Monday.
If passed, the draft would amend many federal laws including the constitution and make labor not only the right of every Russian citizen, but also an obligation. If these changes were to come into force, "those evading employment for over six months in a situation when suitable jobs are available would be punished with up to one year of community service or correctional labor." This offense is described as "parasitism" – the same word used in Soviet laws, where it was a punishable offense.
READ MORE: Communists oppose government initiative to raise pension age
A suitable job is defined as employment that matches the worker's qualifications and state of health and the conditions at his or her last place of work, and is accessible by transport. Salaries below the official living wage would render any job unsuitable in the eyes of the law.
The suggested rules do not apply to under-aged citizens, disabled persons, women with children under 14 years of age and other similar sectors of the population. People working without legal employment contracts (thus receiving their salary under the table) would automatically be considered parasites and punished.
The St. Petersburg legislature also prepared an address to President Vladimir Putin asking him to support the initiative.
"Labor must be considered the honored and important duty of every citizen. Currently, many people perceive personal freedom as the right to parasitism. We ask you to support the idea of holding parliamentary hearings to change the Constitution as the basis for future modernization of Russian laws," the document reads.
The State Duma Committee for labor has already acknowledged that the initiative would be put to a vote, as it could potentially increase income for the budget. According to a recent report by the Deputy PM Olga Golodets, 48 million Russians are officially employed, 20 million work unofficially and 18 million people do not work at all.
READ MORE: Russian parliament to consider 4-day workweek
However, MP Aleksandr Ageyev of the State Duma Committee for Constitutional Law said that it was not right to limit the rights of citizens.
"We are currently having an economic crisis and only very good specialists can find a job in such conditions. In the end, the market will determine who is a parasite and who is not," he said.
Earlier this year Belarus introduced a law 'On Preventing Social Parasitism', which penalizes people with an annual fee of about $240 if they live in the republic and use its infrastructure and social services yet fail to pay any taxes for over six months.