'Renounce Russian citizenship,' activists tell pro-US opposition figure
Published time: 22 Apr, 2015 11:36
Edited time: 24 Apr, 2015 13:56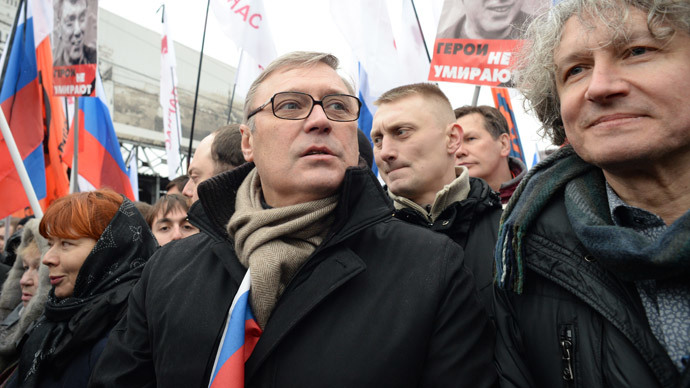 After Mikhail Kasyanov announced plans to ask US Congress to put some Russian journalists on sanctions list, civic order advocates urged him to give up his Russian citizenship and move to the US so that he can better serve its interests.
The 'Anti-Fascist, Anti-Maidan Council' group addressed Kasyanov with an open letter that was published by Russian press on Wednesday, just a day before the scheduled meeting between the opposition figure and US Congressmen.
Shortly before this, Kasyanov said he wanted to ask US lawmakers to impose sanctions on a number of leading Russian journalists, alleging that the latter had "created an atmosphere of hatred" that resulted in the killing of his close ally Boris Nemtsov – once the co-chairman of RPR-Parnas.
READ MORE: 'Anti-Maidan' movement launched to oppose color revolutions in Russia
Kasyanov calls his initiative the 'Nemtsov List' because he sees it as an amendment to the Magnitsky Act – a list of personal sanctions introduced in US against Russian state and court officials whom the West accuses of complicity in death of auditor Sergey Magnitsky (who died in 2009 of acute sickness while in pre-trial custody on charges of major tax evasion).
The civic order advocates considered such step a betrayal of Russia's national interests.
"We hold that if Kasyanov is an honest man he must voluntarily renounce his Russian citizenship and permanently resettle in the United States – the country in which he seeks official sanctions against his own co-citizens," the head of the NGO Evgeny Shabayev said in comments with popular daily Izvestia.
"This can only be done by a person who has no respect to Russian population and authorities, who does not take into account Russian laws and the constitutional order," he added.
The activist noted that if Kasyanov had any claims against Russian reporters or politicians he should have first tried to address the situation by means of Russia's own legal mechanism. This is especially true because at some point in his political career Kasyanov was Russian Prime Minister and thus he has personal responsibility for the mechanisms that he now refuses to use.
"Being a democrat and a liberal he should have used the presumption of innocence and protected the reporters. Instead he passes his own an out-of-court sentence and convicts them of murder," Shabayev said.
READ MORE: Anti-Maidan activists blast Yabloko party over US-funded protests
Some Russian lawmakers proposed a reaction to Kasyanov's planned action against journalists by depriving RPR-Parnas of state party registration.
"Kasyanov is a foreign soldier who is openly at war with Russia. What can we expect from him? Asking him to give up anything voluntarily is the same as asking Hitler's troops not to burn villages on an occupied territory," said MP Evgeny Fyodorov of the centrist conservative United Russia party. "I think that the Justice Ministry should ban all parties that work for Russia's external management."
MP Mikhail Yemelyanov of the leftist Fair Russia party suggested introducing a law that would allow Russians to be stripped of citizenship for actions against their country and people.
Communists and lawmakers from nationalist party LDPR also expressed outrage over Kasyanov's actions, but said that stripping him of citizenship would only be a legal formality.