Putin demands respect for Russia, pledges never to become US vassal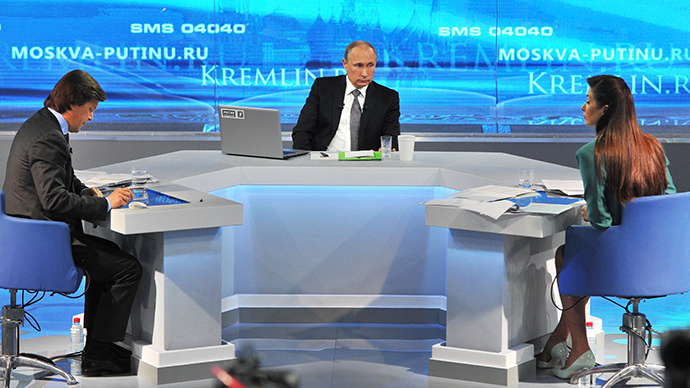 Relations with foreign countries will normalize when they observe respect for Russia and uphold equality for all members of the international community, President Putin said during his annual Q&A session.
"The most important thing for reestablishing normal relations is respect for Russia and respect for its interests," the Russian leader said on Thursday, answering a question about the conditions under which relations between Russia and the West might improve.
He added that in his view, the United States did not need allies, only vassals, but Russia could never agree to such one-sided cooperation.
"It was not us who spoiled the relations, we have always stood for normal relations with all nations, both in the East and in the West," Putin said.
"Everyone must understand this. Moscow is always open for cooperation."
"We are ready for cooperation and will engage in it, despite the position of some leaders of certain countries. We will cooperate with those who want to work with us," he added.
The president also reminded the audience about the international situation in the early 1990s, saying that every time Russia attempted to tell the world that it had its own interests it always encountered a harsh reaction. "Remember how the West applauded Boris Yeltsin. But as soon as he voiced Russia's position on Yugoslavia they unleashed the dogs on him. I would not even repeat the expressions that were used."
At the same time, Putin said the Soviet Union made a mistake when it tried to impose its own political and economic system on Eastern Europe in the second half of the 20th century. "After the Second World War we tried to force our model of development on many Eastern European countries, and we did it by force. We must acknowledge this. There is nothing good in it and we can still feel the negative consequences," he said.
"But Americans are behaving approximately the same today as they try to impose their model practically all over the world. They will also fail," the president noted.
Putin also said that Russia had no enemies in the world, except for international terrorism and organized crime. "We consider no one our enemy, I mean, among the international community. But also we do not recommend anyone to consider us their enemy." At the same time he noted that Russia was a great nation with a nuclear potential comparable with the US and this made it "equally glorious" to be Russia's friend or Russia's enemy.
The Thursday Q&A marathon was the 13th such event hosted by Putin. More than 3 million people sent in questions, which ranged from international politics to social programs inside Russia.
You can share this story on social media: