FSB stops high treason case against 'mother of seven' – lawyer
Published time: 13 Mar, 2015 12:21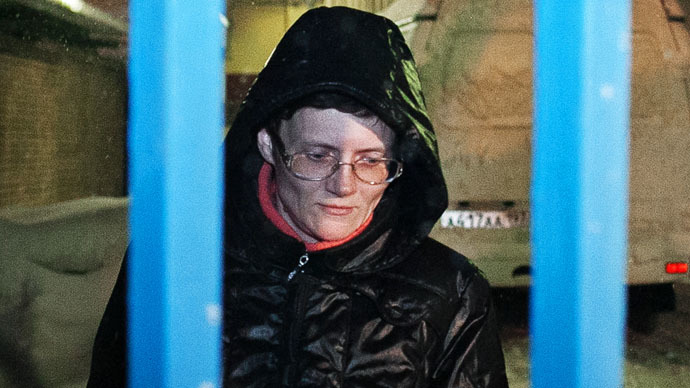 Russian law enforcement agencies have reportedly dropped treason charges against Svetlana Davydova, a woman who allegedly contacted the Ukrainian Embassy in Moscow to share her fears that Russian troops could be sent to Ukraine.
"All charges of high treason against Davydova have been removed, she has been granted the right of rehabilitation," the woman's defense lawyer, Ivan Pavlov, told Interfax news agency Friday. Russian security and court officials did not immediately confirm the information.
The government daily Rossiiskaya Gazeta quoted unnamed sources close to the process as saying that court experts decided that the information that the woman delivered to the Ukrainian Embassy contained no state secrets and therefore she could not be prosecuted for high treason.
The high treason case was started because in April 2014 Davydova contacted the Ukrainian Embassy in Moscow and alleged that a Russian battalion stationed near her home town of Vyazma in western Russia's Smolensk Region, may be sent to Eastern Ukraine to take part in the fighting.
READ MORE: 'Mother of 7' arrested in Russia on high treason charges
An investigation was launched soon after this, but Davydova's case made it into the headlines of the Russian media only in late January, when investigators decided to put her in custody over fears that she might flee and escape justice. The defense team cried foul, pointing out that the 36-year old woman was raising seven children and this made her escape complicated and unlikely. Three of the children are Svetlana's own and four are from her husband and her sister, who was previously married to the same man, but the media and bloggers coined the "mother of seven" phrase to describe Davydova.
The media reaction prompted a public outcry and the involvement of Russian human rights officials, including the children's rights ombudsman Pavel Astakhov, who offered to personally bail the suspect out to allow her to return home to her children.
The public reaction and involvement of rights activists prompted the court to reconsider the pre-trial prevention measure. In early February, Davydova was released from custody and shortly afterward the Moscow City Court ruled her arrest in January unlawful.