Mass media to be legally bound to train war reporters, or risk fines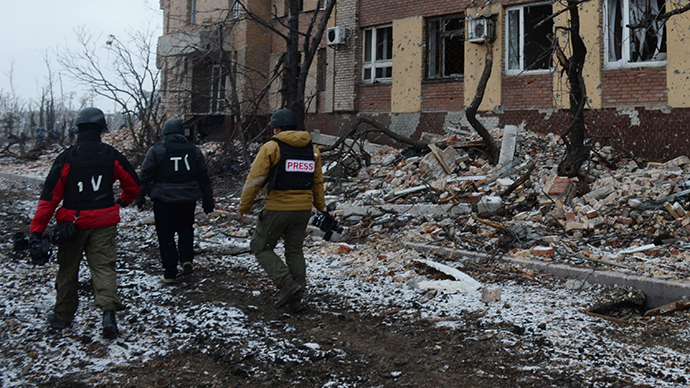 The Lower House committee has approved a motion obliging mass media to provide correspondents with body armor, id patches and special training before sending them to hot spots. The bill's sponsors say it was prompted by the civil war in Ukraine.
The main sponsor of the motion, MP Mikhail Markelov (United Russia), told reporters that its main objective was to provide the maximum possible security for journalists. An employer who sends reporters to work in "special conditions" must not only issue them bulletproof vests and helmets with "press" written in bold letters, but also provide instructions on basic safety in war zones.
The bill also introduces amendments to an administrative code, according to which violation of these rules would be punishable by fines of between 30,000 and 50,000 rubles ($480 - $800) for civil servants and between 100,000 and 200,000 rubles ($1,600 - $3,200) for companies. Repeated offenses would result in fines being doubled and could also lead to media outlets being suspended for 90 days.
Markelov said in comments that there were no special plans to enforce the new bill if it's passed. "No one will purposefully monitor anything. But if an insurance claim is lodged or if a reporter gets killed the responsibility would be on the employer. This should make the mass media interested in complying with the law," the MP noted.
When the lawmaker presented the bill before the State Duma Committee for Information Policy, he told its members that the bill's necessity had become painfully apparent after the armed conflict in Ukraine.
READ MORE: In the line of fire: Journalists killed and abducted in eastern Ukraine
The critics of the motion say it lacks precise definition of the "special conditions" that require additional equipment and training, and also the details of the training itself. The sponsors answered that the details would be covered as the draft is discussed in the parliament and promised to get expert opinion from the military, police and the Emergencies Ministry.
The chairman of the Information Policy Committee, Leonid Levin, said the State Duma might pass the new bill after its first reading on Friday.
The Moscow Union of Journalists currently offers a 5-day 'Bastion' training program, sponsored by the Federal Agency for Mass Communications.It includes advice from journalists who have worked in hot spots and practical training on army ranges using combat vehicles and live explosives. Psychologists' consultations on how to deal with death and injury are also included in the course. Between 20 and 30 reporters undergo the training every year.
You can share this story on social media: