Medvedev seeks civil servants' return to state corporation boards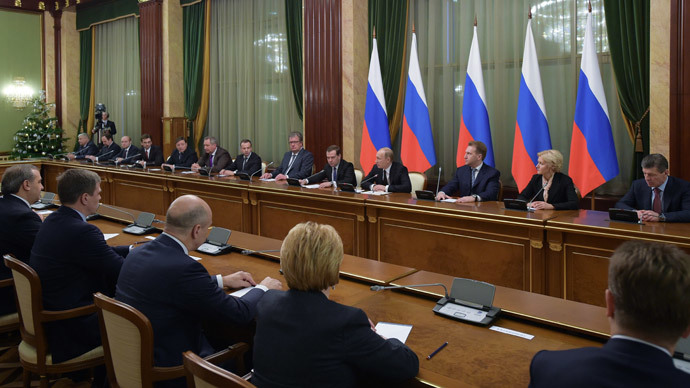 The Russian prime minister says it's necessary to return state officials to management boards of major state companies as the crisis situation in the economy demands tougher government control over investment and spending.
"Considering the necessity of a stricter control over activities of state-controlled companies, their economic indicators, money and foreign currency movement and implementation of investment programs, at the current moment I consider itreasonable to return to civil servants' participation in boards of directors," Dmitry Medvedev said at the final government session of 2014.
The PM noted that allowing government ministers and deputy ministers to participate in executive or supervisory boards of major government controlled corporations would make the obligatory control procedures more effective.
President Vladimir Putin, who also attended the government session, said the current situation might require "manual management" of the economy.
"We must have everything under control. If such need arises we must switch to so-called manual management even though some might not like it. Now it is absolutely justified," Putin told ministers.
Russian reform removing state officials from the boards of major state companies started in 2011, when Dmitry Medvedev was president. The intention of the move was to boost competitiveness and effectiveness of state owned businesses, and it was done together with granting more rights to minority shareholders and introducing additional anti-corruption safeguards.
In March 2012, Medvedev ordered that all state corporations must remove civil servants from their boards within three years. The decision caused several major staff moves. Igor Sechin, deputy prime minister of the day, left the board of the oil major Rosneft, and then-Energy Minister Sergey Shmatko quit his post in the natural gas monopoly Gazprom, while Aleksey Kudrin, finance minister at the time, was removed from the supervisory boards of the VTB bank and the diamond mining giant Alrosa.
You can share this story on social media: