Eurasian Economic Union is open for new partners - Putin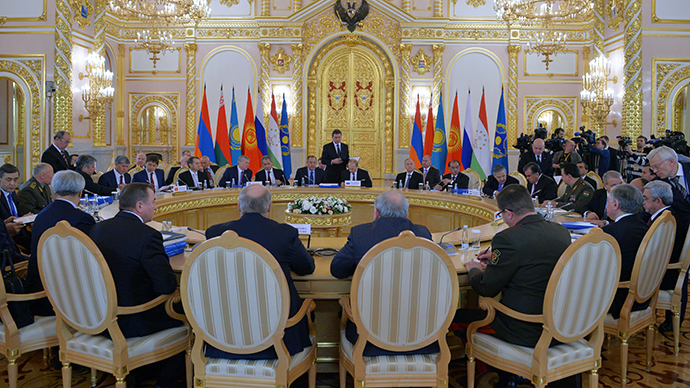 The Russia-led Eurasian Economic Union has huge potential to expand and is open to cooperation with partners in the East and West, President Vladimir Putin said at the EEU summit in Moscow.
"The increase in the number of members is beneficial to the union itself. It boosts its market capacity and contributes to the strengthening of trade and economic ties, and to the launching of new investment projects," Putin said at this week's session of the EEU's Supreme Council.
The Eurasian Economic Union is an economic and political bloc formed in 2014 uniting Russia, Belarus, Kazakhstan and Armenia. The treaty to form it will go into full effect on January 1, 2015. The population of the union is about 171 million people and its gross domestic product is expected to reach $3 trillion next year.
The leaders of the EEU countries who attended the Supreme Council session also took part in a session of the Collective Security Council – the top body of the military Collective Security Treaty Organization (CSTO).
At this event the Russian President called for allies to jointly develop a response to various threats emerging in the modern rapidly changing world. "Unfortunately, the global security system is currently askew. This demands a coordinated and joint response that would defend all of our countries and the region as a whole from terrorism, drug trafficking, cross-border crime, and also prevent natural and man-made disasters," Putin said.
After both summits Vladimir Putin invited the other leaders to visit Russia's newest defense facility – the major complex meant to monitor threats to national security in peacetime, but capable of taking control of the entire country in case of war. The presidents of Russia, Belarus, Kazakhstan, Armenia and Kyrgyzstan arrived to the defense center together. Russian Prime Minister Dmitry Medvedev and Defense Minister Sergey Shoigu also took part in the visit.
Putin told his guests that all CSTO members would be given access to the National Defense Center and this would greatly contribute to the manageability and rapid response of their national military forces. "Everything here is made with Russian technology, with very powerful computer software that is currently unmatched in the world," the Russian President said.
You can share this story on social media: