Activists launch online initiative against 'Internet Tax'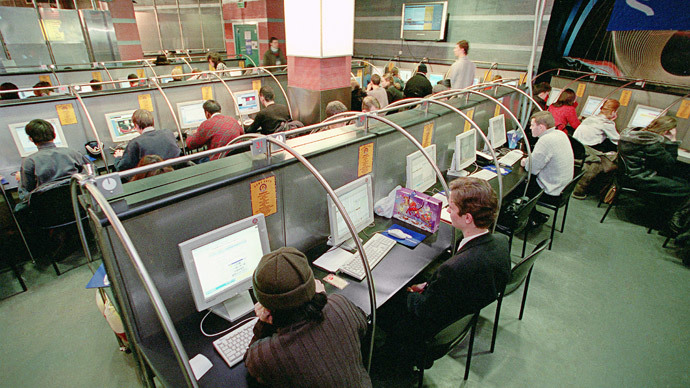 A group of Russian citizens has launched a petition seeking to prevent the adoption of a bill that would introduce a universal tax on the internet, collected by rights organizations representing authors of copyrighted films, music and books.
The anonymous authors of the motion claim that the universal tax is against the law as it would force the majority of internet users to pay for content that they never download or use.
"The planned tax payments would not be in the interests of the entire Russian population and not even in the interests of the country's internet users. They would benefit only a limited number of personalities and there is no guarantee whatsoever that any money would reach the authors of the downloaded content," reads the petition posted on the official state site for collecting signatures.
According to Russian law, once the initiative gathers 100,000 signatures from supporters it must be submitted to parliament.
The reaction was prompted by the recent suggestion of the Russian Union of Copyright Holders - a public organization launched in 2009 to protect the legal rights of the authors of films, music and other artistic content. In October, the union developed and released for public discussion a new mechanism of collecting copyright fees for works downloaded via the internet – a fixed tax of about 300 rubles a year (about $5.5 at current rate) levied on every user and collected through service providers.
This move is similar to another move lobbied by the union and actually introduced in Russia in 2010 – the 1 percent tax on all devices and media that can be used for recording and playing copyrighted works – from video projectors to blank DVDs.
The idea of an internet tax has already met with opposition from Russia's major ISPs. They prepared and sent a letter to the president requesting him to block the bill as it violated the constitutional right for private correspondence, and also the norms of the World Intellectual Property Organization.
In mid-October this year, thousands of angry users took to the streets in Hungary's capital, Budapest, after the government announced its plans to introduce the 150 forints ($0.62) per gigabyte tax on internet traffic. Caving in under the mass protests, the government canceled the plan at the end of the month.
You can share this story on social media: