'Fair healthcare': Hundreds protest medical reform in Moscow (VIDEO)
Doctors, medical staff and their supporters demonstrated in downtown Moscow to say 'no' to healthcare reform and downsizing, which will see 24 city hospitals closed and thousands of staff made redundant.
Despite temperature in the capital falling to minus 10 Celsius, hundreds participated in the march, including members of political parties and activists.
Police estimates put the figure at around 1,500 people while the organizers and media say some 5,000 protesters turned up.
The doctors carried banners saying: "Together for a fair healthcare," "Save money on war, but not on doctors," "Doctors and patients unite" and "No to reduction in medical facilities."
The medics demanded a raise and called for the officials responsible for the reform to be fired.
The staff reorganization in Moscow's medical institutions began on July 1 this year and will continue to the end of 2015. In October, it was announced that 28 hospitals would be closed and some 10,000 medical workers fired, which caused an uproar among medical professionals.
Officials behind the reform said that it's set to cut expenses and help focus better on preventative care.
Moscow mayor, Sergey Sobyanin, promised that the nurses and doctors, who lose their jobs due to staff cuts, will receive a one-time payment of between 200,000 and 500,000 rubles (around $4,000 and $10,000, respectively).
The city authorities will also create a special database to assist laid-off medics to find new jobs in Moscow and neighboring regions where local health centers lack internists or general practitioners.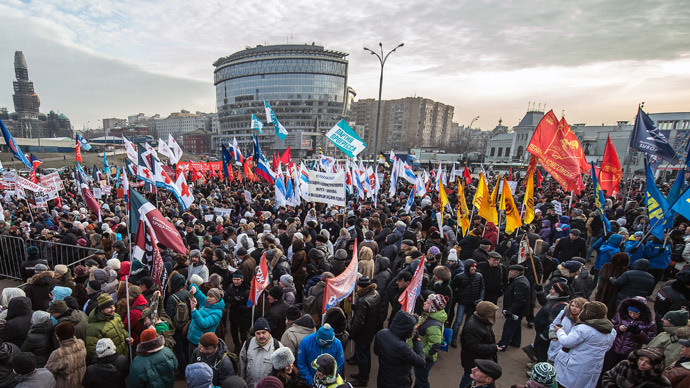 Many of those dismissed come from diagnostics laboratories, with their positions becoming redundant due to new equipment purchased for the Moscow clinics.
The doctors will be given the chance to upgrade their licenses and so be able to change their professional field, with a monthly grant of 30,000 rubles (around $600) during additional education.
With that in mind, not all the city's medics shared the protest mood, with many agreeing with the necessity of healthcare reform.
"When some hospitals are working at 50-60 percent capacity and the others – at 110 per cent it's wrong to rally and say that such medical facilities shouldn't be merged," Sergey Arkelov, medical director of the 53rd Municipal Hospital, told Izvestia newspaper. "The system will become better and more convenient for the patients as a result of the reorganization."
The Sunday event was coordinated with the city authorities and, according to the police, "went off without any incidents."
A similar rally for "Decent and quality healthcare" took place in Moscow on November 2, gathering around 6,000 people.
You can share this story on social media: