Call for anti-gay crusader Milonov to be investigated for extremism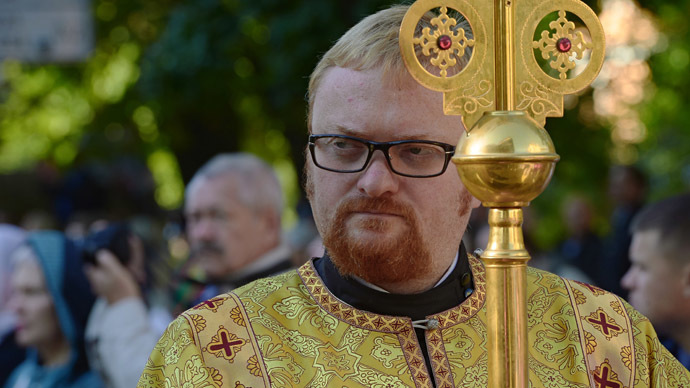 An upper house senator has asked Russian law enforcers to investigate the activities of St. Petersburg lawmaker Vitaly Milonov, known for his uncompromising defense of Christian values as well as promoting the ban on gay propaganda to minors.
In his letter to the head of Russia's Investigation Committee, Senator Konstantin Dobrynin (Arkhangelsk Region) accused Milonov of "assisting terrorist activities, public calls to commit such activities, organizing and participating in a terrorist cell, as well as illegal possession, transportation and carrying of firearms and explosives." Dobrynin also writes that in recent years Milonov has repeatedly and insistently made statements banned by the Federal Law against Extremism, the Interfax news agency reported on Thursday.
The senator's claims are based on a number of media reports of Milonov's actions at political rallies in Russia and his trip to Southern Ukraine where he posed for a photograph with a gun while wearing a t-shirt with the slogan "Orthodoxy or Death." The slogan has been previously banned by the Russian Justice Ministry as extremist after experts decided it could spark hatred between religions by declaring supremacy of one religion over others.
Dobrynin also asked the Investigation Committee to order compulsory psychiatric tests for St Pete deputy. "It is possible that Milonov is not a true criminal but in his illness he inclines towards positioning himself as a dangerous criminal, possibly because of his current state of mental health," the senator wrote.
The senator has written twice to the Prosecutor General's office with similar requests, but then prosecutors decided that Milonov's activities were not unlawful.
Milonov sharply reacted at the news, accusing Dobrynin of being anti-Christian and likening him to Judas Iscariot.
"For him, everything in Orthodox Christianity is extremism. I don't want to notice this man," the politician told RSN radio. "I cannot take this seriously. I have issued a personal spiritual ban for this man. He has probably written more reports on me than Judas had on Christ," the news site Gazeta.ru quoted Milonov as saying.
Vitaly Milonov is well-known in Russia and abroad as the author of the St. Petersburg regional law that bans the promotion of homosexuality towards minors. After the bill was introduced in Russia's second largest city and a number of other regions, the federal parliament voted for a similar nationwide ban, causing a wave of protests in Russia and around the world. His other initiatives included the bill outlawing child beauty pageants, forced resettlement of homeless people to rural areas, a campaign against fake accounts in social networks and many others.
You can share this story on social media: