Putin urges tougher measures to counter extremism, color revolutions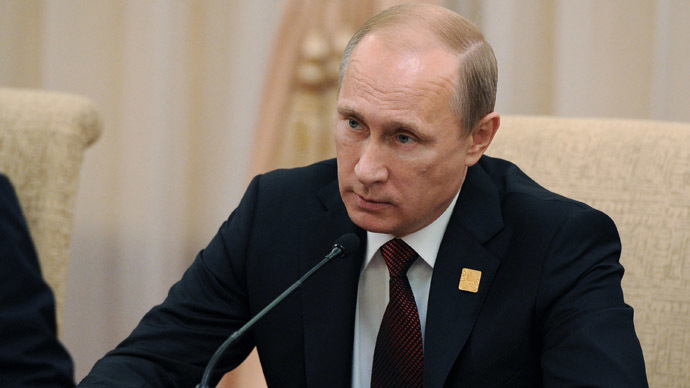 Russian President Vladimir Putin has said that forces willing to reshape the world often used extremism as a tool in so-called "color revolutions" and urged law enforcement to use international experience to fight such tendencies in Russia.
"In the modern world extremism is used as a geopolitical tool for redistribution of spheres of interest. We can see the tragic consequences of the wave of the so-called color revolutions, the shock experienced by people in the countries that had went through the irresponsible experiments of hidden, or sometimes brute and direct interference with their lives," Putin told the Security Council on Thursday.
"This is a lesson and a warning for us," Putin said. "We will do everything to never let this take place in Russia."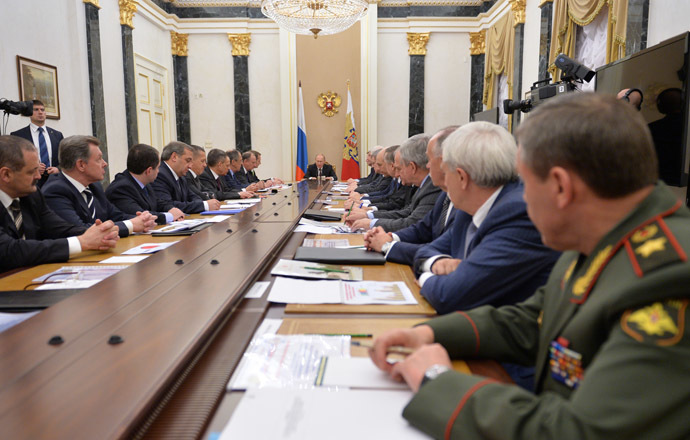 Putin also noted in his speech that everyone advocating the freedom of assembly and expression must remember about the responsibility that comes together with these rights.
"People should understand that instigating conflict between people of different ethnic and religious background, the promotion of nationalist ideology, mass violations of public order and calls for forceful overthrow of the existing regime are all … direct manifestations of extremism," he told top security officials. He noted that everyone should remember about the destructive consequences of such actions as well as about the fact that those involved would have to answer for them.
The president also said that senior regional officials would have to personally answer for shortcomings in the fight against extremism. He urged all civil servants to monitor and analyze relations between various ethnic and social groups.
In late June, Putin signed into force a set of fresh laws targeting public calls in support of extremist activities as well as providing extremists with financial assistance.Now those found guilty of financing extremist activities could face up to six years in prison. Public calls for extremism, or attempts to humiliate people, will be punished with up to five years in prison. This applies to internet posts as well as media publications.
However, the new law provides immunity for those who turn against the organizations and help law enforcers to prevent crimes.
The new laws are in line with Russia's anti-extremism strategy, prepared by the Interior Ministry and made public in mid-June. According to the document, the authorities see the internet as the main channel for spreading dangerous information, and want to counter the threat through intensive monitoring of the web and imposing traditional values on the young.
In the strategy, the police list radical Muslim movements, domestic nationalist groups, football hooligans, illegal immigrants and certain foreign NGOs and religious groups as the main threats to security.
At the same time the Russian leader has repeatedly stated that the fight against extremism must not turn into a campaign against dissidents. He raised the issue again at Thursday's Security Council session, saying that Russia was a free and democratic country where citizens could have their own opinions and express them, including the right to be in opposition to the authorities.
"All people have the right to suggest solutions for and approaches to current problems, they have the right to form parties and groups, to participate in elections and fight for power," Putin said. "The most important thing is to ensure that the process of realization of citizens' political preferences was civilized and strictly within the framework of the law," he said.
You can share this story on social media: