Russia remembers victims of Stalinist purges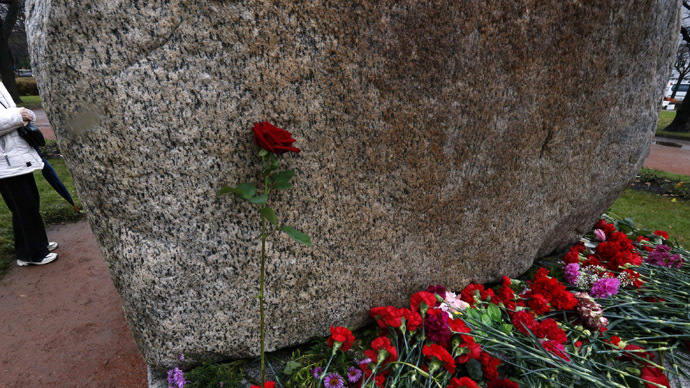 Today Russia remembers people who fell victim to major repressions in the Soviet era. Memorials are taking place all over the country with the main event being held near the Solovetsky Stone monument in Moscow.
The Solovetsky Stone is a monument to all victims of political repressions. The stone was brought from the Solovetsky labor camp in 1990 and installed on Moscow's Lubyanka Square in front of what once was the headquarters of the Soviet Union's home security service, the NKVD.
Since 2007, the Memorial society – a Russian NGO that sets its major objective as uncovering the crimes of the Stalinist regime – is holding the "Returning the Names" event near the Solovetsky Stone monument. For 12 hours, activists read out the names of people who were executed in the 1930s for their political beliefs. The public is holding a silent vigil around the speakers with candles, flowers and pictures of the dead.
There is a photo exhibition of places of mass killings nearby.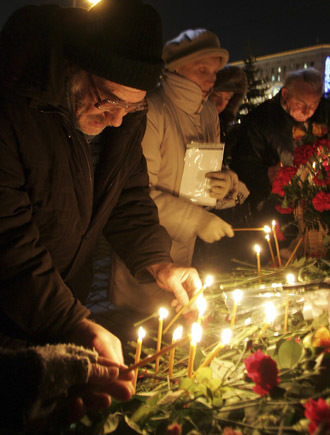 Also on Thursday, Moscow Mayor Sergey Sobyanin told reporters that a new building for the museum of political repressions will soon be opened in the city. Sobyanin added that the place will house both research and various events after the opening. Museum director Roman Romanov said that the first visitors will be admitted to the museum in 2015, and these would be school children and students.
He also told reporters that a "memory garden" will be laid near the museum building and this space will be opened for visitors around the clock. In 2015, a wall of memory will be built in the garden so that the victims' relatives can place personal memorials for their loved ones.
Soviet dissidents started marking October 30 as the day of the political prisoner back in 1974. This happened after inmates of several labor camps went on hunger strike in memory of innocent victims and human rights activists in Moscow told reporters about this event. After this, symbolical hunger strikes of political prisoners took place every year on October 30. In 1989, about 3000 people rallied around the Lubyanka building demanding official recognition for the repressions and to honor the victims.
After the collapse of the Communist regime, the Russian parliament inaugurated it as an official memory day in 1991.
According to the Memorial NGO, about 720,000 death sentences were passed in the Soviet Union in the 1930s – the very height of the Stalinist purges. The group claims that 30,000 people were executed in Moscow alone during the "Big Terror" of 1937 and 1938.
You can share this story on social media: