MP suggests launching patriotic TV channel for young Russians
Published time: 21 Oct, 2014 09:35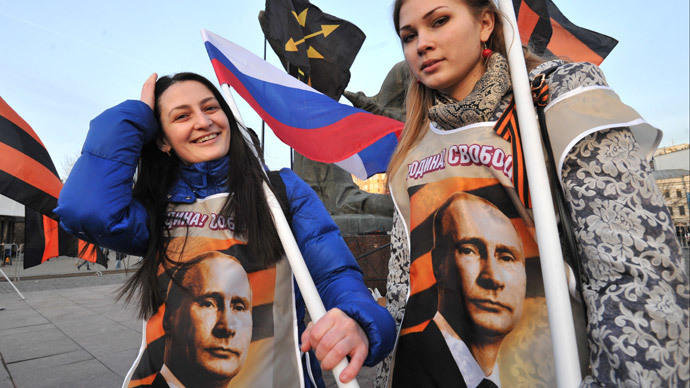 A ruling party lawmaker has prepared a plan to launch a special government-funded patriotic television channel targeting Russian youngsters.
Viktor Vodolatskiy of the United Russia parliamentary caucus explained that society was overwhelmed by the promotion of violence and it was in the national interest to have a special channel that would push traditional values to the younger generation.
"Today the television, internet and social networks are promoting violence and neo-Nazism and we do not have a single united resource that would cultivate positive emotions, educate people about true human values, and support a patriotic upbringing. This is why we need a youth TV channel with such content," Vodolatskiy told the mass circulation daily Izvestia.
He went on to explain that young people are the most passionate part of society and therefore they are the easiest to manipulate through information technology. Over 90 percent of ethnic and religious conflicts and political protests take place mostly among the young. They are as vulnerable to the negative effects of the information environment as they are to alcoholism and drug addiction, Vodolatskiy said.
According to the lawmaker the plan to launch a dedicated patriotic channel for younger people has already gained support from members of the presidential commission for patriotic, spiritual and moral upbringing of children. The idea has also been discussed at the Youth Legislative Forum, and according to Vodolatskiy, it was supported by students and young professionals.
The MP suggests to name the new channel Rossvet (a play of words combining parts "Russia" and "light" with the result resembling "dawn"). If launched, Rossvet would be broadcast nationwide and its content would be composed of talk-shows, educational programs and news reports. Vodolatskiy estimated the target audience of the new television as about 30 percent of the Russian population or about 45 million people.
The main sponsor of the plan has not disclosed the suggested budget for the new channel, but a similar project, the Public Russian Television, or ORT, launched in 2013 required about 1.5 billion rubles in state funds annually or about $37 million.