Crazy horse! Chechen leader asks Germany to say sorry to his nags
Published time: 20 Oct, 2014 10:12
Edited time: 20 Oct, 2014 14:46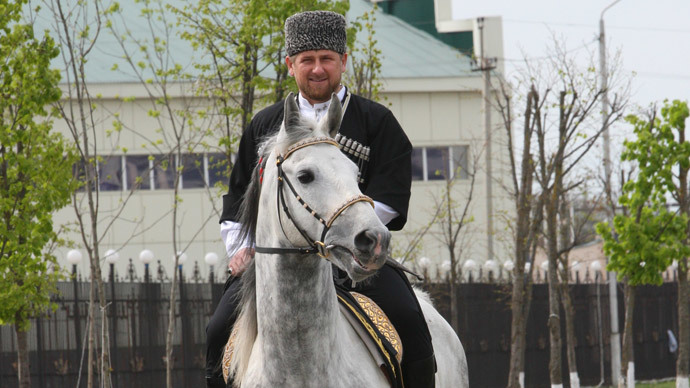 The head of the Chechen Republic has ironically called the refusal to pay prize money to his horses "a disgraceful page in Germany's history" and added that German authorities will have to pay "multi-million compensation" over the scandal.
Ramzan Kadyrov replied to the news that his two race horses, Zazu and Dashing Home, were refused prize money after races in his usual way – by posting a comment on his Instagram account.
The top Chechen politician complained that the decision would make both horses depressed.
"After prolonged debates in the government and Bundestag, after consultations between the president and the federal chancellor they decided to deprive Zazu of the money earned by honest work and fast hooves. They also limited its freedom of movement. In Berlin they say that any horse must fall under sanctions imposed on its master and answer as if it were human," Kadyrov wrote in his comments.
"It turns out that Zazu is to blame for all the troubles that take place in the World – it was this horse who had made the decision to start wars in Iraq, Syria, Libya, Afghanistan, the decision to bomb Belgrade."
Kadyrov went on to suggest that the German authorities "have transferred their own disgraceful experience from the last century on the animal," and added that those responsible would have to pay millions in compensation for moral damage inflicted on the horses and discrimination.
In late August and early October, Zazu won five and two thousand euros in Baden-Baden and Dusseldorf, respectively.The German government, however, banned the horses' owner from receiving price money, saying Kadyrov was subject to EU sanctions. The authorities also banned the horses from further participation in races till sanctions on Kadyrov are lifted.
Ramzan Kadyrov is well known for his love of horses and for supporting horse racing. His horses have previously participated in competitions around the world bringing millions of dollars in prizes.
The European Union imposed sanctions on the Chechen Leader in July this year suggesting that his actions were allegedly threatening the territorial integrity and independence of Ukraine.