Destruction of Lenin statue in Ukraine resembles 'zombie flick' - Russian Communists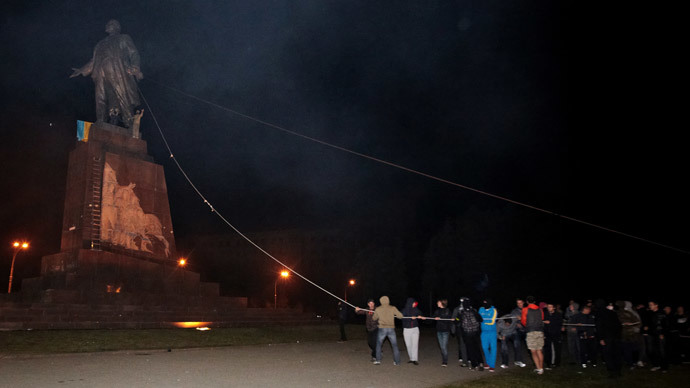 A leading Communist Party member has attacked Ukrainian radicals for demolishing the monument to Bolshevik Revolution leader Vladimir Lenin, in Kharkov, saying their actions resembled a scene from a zombie horror movie.
The scenes of people showing disregard of history and the ideals of their grandfathers, reminded Igor Melnikov of "zombie films where the virus is rapidly spreading."

However, Melnikov, who is also the Vice-Speaker of the Russian Duma, added that "in such films, there is always healthy resistance, which wins in the end."

Sergey Obukhov, another Communist Party official said that Ukraine's current borders come from the Ukrainian Socialist Republic, which was established during Lenin's rule in 1917.
"In a vandalistic rush, they (the ultranationalists) are destroying by themselves the Ukrainian statehood as if there is no Lenin, there was no Ukrainian republic," Obukhov said. "Therefore, this state is a myth, a phantom and an obscure geopolitical entity that could be claimed by all the neighbors."
On Sunday, the participants of an ultranationalist rally in central Kharkov used cables and cranes to bring down a 20-meter high Lenin monument, one of the largest in the country.

The police did nothing to stop the destruction, with Ukraine's Interior Minister, Arsen Avakov, later explaining that the officers were ordered "to protect the people, not the idol."
On the same day, another monument to Lenin was destroyed in the town of Dergachi in the Kharkov region.

The Ukrainian Interior Ministry has announced that a criminal case of vandalism against those responsible for the demolition of the Kharkov monument is now closed.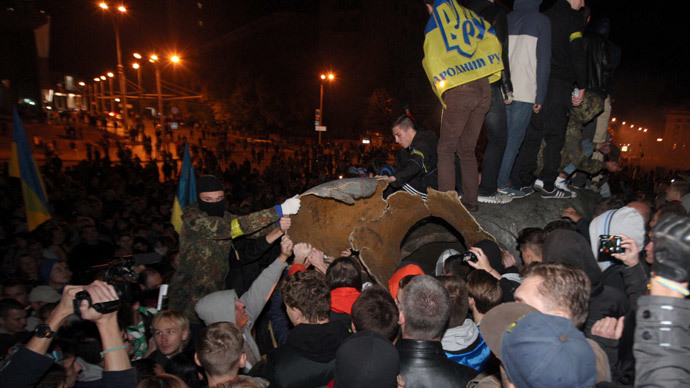 The ministry said in a statement that the Lenin monument was dismantled legally, following orders issued on Saturday by Kharkov Region Governor Ihor Baluta.

However, Kharkov's mayor, Gennady Kernes disagrees, labeling Sunday's events "a direct violation of the law regarding safety of peaceful assembly of citizens of Ukraine."
Kernes, who survived an assassination attempt in April, promised that the demolished Lenin monument will be restored.

"I don't think that now is the right time to wage war on historic monuments. I don't think there'll ever be time for this. Kharkov has always been a tolerant city," the mayor told a Russian radio station.

The Lenin monument in Ukraine's second-largest city of Kharkov has been a traditional gathering spot for activists, who have refused to recognize the coup-imposed authorities in Kiev and are demanding federalization of the country.
You can share this story on social media: