Putin likens part of independent opposition to Bolsheviks, branding them as traitors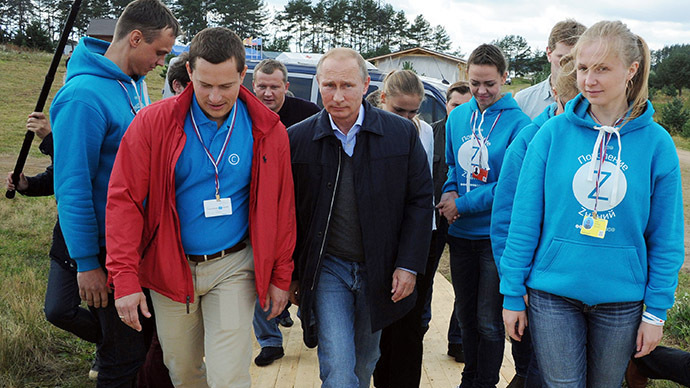 The Russian President has accused members of the non-parliamentary opposition of betraying national interests, and likened them to Bolsheviks who wanted a Russian defeat in WWI.
President Vladimir Putin was talking to young activists on the last day of the Seliger political forum on Friday and, among other issues, discussed Russia's current political system.He stressed that in his view the country had a fully-fledged multi-party political system and added that recent elections prove his point.
"Parliamentary opposition parties can work really hard at elections when they feel they have a real chance. Let us look at the 2012 campaign – were they really playing to lose? Of course, not," Putin told the forum.
Putin said recent political reform had drastically liberalized the registration of new political groups, and because of it the number of officially registered parties in Russia now exceeds 70. At the same time, he defended the system of restrictions on political elections saying that the excessive number of candidates would make voting harder.
Vladimir Putin accused a part of the non-parliamentary opposition of "rocking the country" and warned of the possible dire consequences of such behavior.
"The Bolsheviks openly wished their motherland be defeated in the First World War. When heroic soldiers and officers were shedding blood at the fronts of WWI some people were rocking Russia from the inside and this rocking caused the country to engineer its own defeat. It was a nonsense, a delirium, but it did happen. It was a betrayal of national interests," Putin told the young activists.
"Such people exist in our country today. Unfortunately no society can do without them," the President added.
In May this year the VTSIOM agency conducted an all-Russian opinion poll that showed that the broad public remained uninformed and skeptical about the party system in the country, the recent reforms, and the activities of the political opposition.
Sixty-four percent of respondents said the current number of political parties in the country was sufficient. Thirty-five percent replied that there was no party that could represent their interests, and 39 percent of Russians said they did not understand what political parties were for.
You can share this story on social media: