Foreign soccer players must speak Russian – Duma plan
Published time: 31 Jul, 2014 13:51
Edited time: 31 Jul, 2014 13:57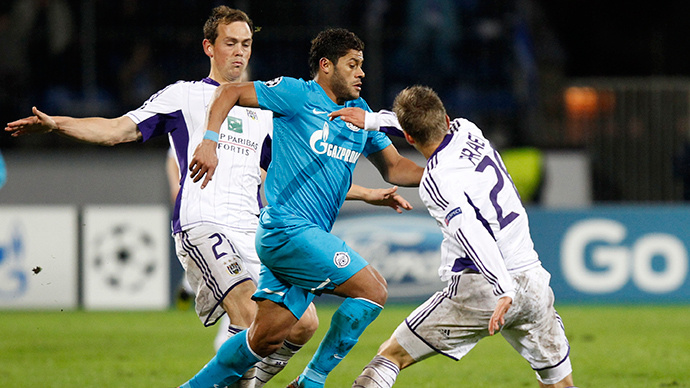 A leftist lawmaker is preparing a bill to impose new legal restrictions on athletes who receive Russian citizenship in order to represent Russian clubs and national teams. If it is approved all soccer players might be forced to learn Russian.
Oleg Nilov of the Fair Russia parliamentary caucus suggests Russia needs to tighten its requirements on foreign athletes and eventually completely stop using their services in its teams. The MP, however, agrees to allow foreigners to work as coaches in children's sports schools, national teams, and professional clubs.
He says the main reason behind the move is the need to save money, as foreign players get their salaries either directly from the Sports Ministry or from major clubs sponsored by state-owned corporations, like the national natural gas monopoly Gazprom that runs the Zenit St Petersburg club.
Zenit pays its Brazilian player Hulk an annual salary of 7 million euro (about $9.4 million). The club also had to pay about 80 million euro ($107 million) in 2012 for Hulk and Belgian footballer Axel Witsel. Salaries of footballers who play for the Russian national team can reach 10 million rubles per year or about $285,000.
In an interview with the mass circulation daily Izvestia Nilov said that his bill was primarily targeting Russian soccer clubs and their foreign players. One of the main requirements for such sportsmen would be to pass a Russian language test. Currently the overwhelming majority of foreign players use interpreters.
According to the Transfermarkt website that monitors the contracts of professional soccer players, 182 foreign players are currently playing for Russian Premier League clubs. This is 42 percent of the total players in these clubs.
The law "On Adaptation of Migrants" that will come into force on January 1 next year making passing a Russian language test obligatory for all foreigners who want to live and work in Russia with the exception for athletes who sign a temporary contract.
This is not the first time Russian politicians have addressed the issue. In mid-July this year the Communist Party caucus in the State Duma promised to draft a bill making the state sponsorship of Russian athletes and teams directly dependent from their performance in international competitions. Lawmakers behind the proposal claim it is because of the poor performance by the Russian national team at the Football World Cup and European Championships, and suggested the changes would motivate athletes and coaches, and improve the situation.