Sportsmen who do not win must not get paid - Communists
Published time: 16 Jul, 2014 14:03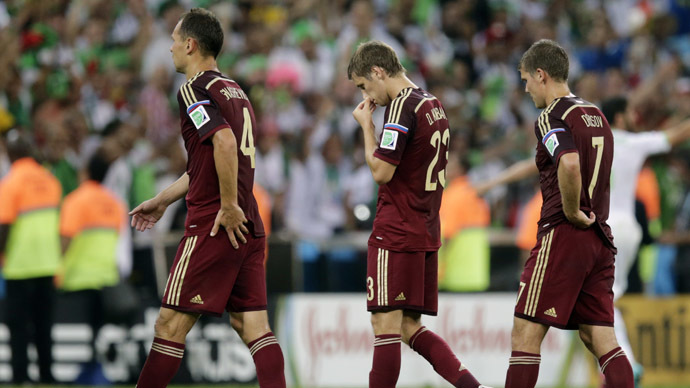 The Communist Party caucus will soon draft a bill making the state sponsorship of Russian athletes and teams directly dependent from their performance at international competitions.
The sponsors of the bill say it has been proposed because of the poor performance by the Russian national team at the Football World Cup and European Championships. They suggest changes to federal law on physical culture and sports would motivate athletes and coaches, and improve the situation.
The bill also sets the upper limit on salaries in certain sports and introduces additional punishment in case a Russian team bows out of international competitions in the early stages. The Communists claim that the move would help to ensure "the optimum balance between the parties in labor contracts and the interests of the state."
MP Vadim Solovyov, who heads the Communist Party's legal service, said in an interview with Izvestia daily that the Russian budget allocated "several hundred billion rubles" for this purpose every year. "Salaries are huge and the results can be only wept over, especially in football," the lawmaker said.
According to Solovyov an average player with the Russian national football team can make up to 10 million rubles (about $285,000) per month and some make even more. But the MP stressed that the plan was not to limit the athletes' rights, but on the contrary – to stimulate better performance and ensure future victories.
MPs from other parties are cautious about the initiative.
Mikhail Yemelyanov of Fair Russia party said the salaries were set on the international market and by setting an upper limit the politicians could easily deprive Russian teams of good players.
Nikolai Bulayev of the parliamentary majority United Russia party said players' salaries usually come from sponsors rather than the state budget, and it would be wrong to order companies and individuals how they should spend their money. Igor Lebedev of the populist nationalist party LDPR agreed, but still suggested to legislatively limit athletes' salaries as sometimes they were "beyond comparison".
The Russian team dropped out of the 2014 World Cup after a 1-1 draw with Algeria on June 26. The Russian goalkeeper claimed he was blinded by a laser beam, but players still received a lot of criticism at home for poor performance.