Duma offers early retirement for distinguished athletes, coaches
Published time: 28 May, 2014 11:03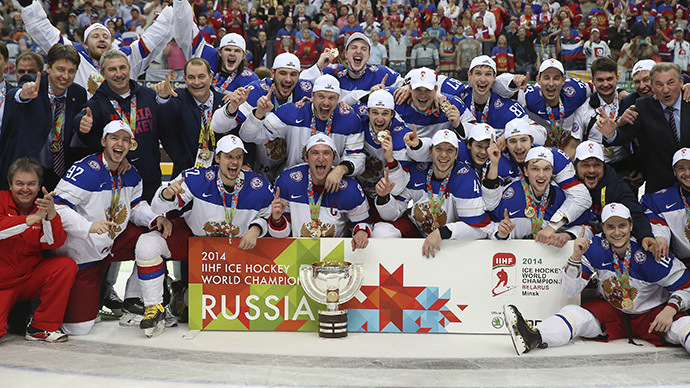 The center-left parliamentary Fair Russia caucus is suggesting changes to the pension laws to allow early retirement and other benefits to winners of international sporting competitions and their coaches.
The bill prepared by MP Oleg Mikheyev will be soon be sent to the Lower House, the mass circulation daily Izvestia reported Wednesday. According to new amendments, any Russian citizen who becomes a World or European Champion in any sport as well as an Olympic, Paralympic or Surdolympic champion can get early retirement. The measure will be applied to all current and former athletes, regardless of their age.
The amendments also equate distinguished coaches who train Russian champions to children's coaches, allowing them to retire with a full pension after 25 years of work.
Presently, all Russian sportsmen fall under standard retirement terms – the state pension is paid to men starting at 60 years of age and to women starting from 55.
During the bill's presentation in the parliament Mikheyev said that it was prepared after Russian athletes' success at the Sochi Olympics and the recent victory of the Russian team at the World Ice Hockey Championship. He said early retirement was a proper compensation for sportsmen and coaches who dedicate themselves to their country and it could also attract more young people to sports.
"The possibility of early retirement is an important social guarantee for athletes. Such a possibility existed in the USSR and it still exists in some former post-Soviet states, like Belarus," the MP said in his speech. He added that Russia still offered benefits to military servicemen, miners, theater actors and ballet dancers, but sports were equally difficult and had an equally hard impact on health.
Russian athletes welcomed the initiative, but added that the new rules should be applied with caution.
World and European swimming champion Denis Pankratov said that different sports required different attitudes and different terms and conditions for retirement.
Renowned tennis coach Viktor Yanchuk told reporters that the initiative could offer additional guarantees to athletes who constantly face the threat of injuries that can ruin their careers. He also said that various types of sports had very different levels of stress and this should be taken into account in the legislation.
Russian authorities are currently awarding sports champions with valuable prizes, such as expensive cars. After the 2014 winter Olympics in Sochi Russian medal winners received Mercedes vehicles.
On Tuesday this week President Vladimir Putin held a reception honoring the Russian national ice hockey team that won this year's World Championship at the weekend. All team members, two head coaches, team manager and doctor received state decorations for their achievement.
According to the ITAR-TASS news agency Putin suggested also awarding the hockey players with cars, but this suggestion has not been implemented as yet.