Authorities advise state companies to send employees to Russian resorts - Putin
Published time: 24 Apr, 2014 14:03
Edited time: 24 Apr, 2014 14:04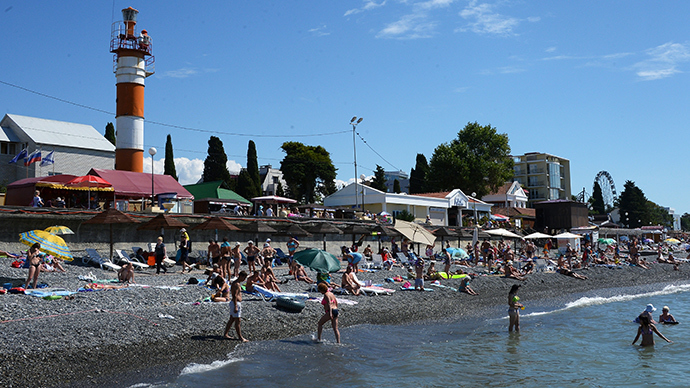 State corporations have been advised to send their staff on vacations to Russian resorts, and President Vladimir Putin has told reporters that in his view private Russian companies should follow suit.
The president was speaking at a media forum in St Petersburg organized by the United People's Front – a relatively new political movement uniting those who support Putin's ideas but choose not to join the United Russia party.
Answering a question about recent rumors of bans on foreign vacations by various ministries and state-owned companies, Putin said that there were certain steps in this direction, but they were not restrictive. "As far as the companies with state participation are concerned, we have already sent them our recommendations on how they could organize holidays for their employees in our domestic resorts," the Russian leader said. He also noted that private Russian companies also should not shun the domestic resorts: "We should direct our companies towards sending their staff and their children to our health spas."
"A lot has been done for this in Sochi, tens of billions of rubles were invested in the infrastructure, in construction of hotels - both the high class and ordinary, but attractively priced and of high quality," the head of state told reporters.
Earlier this week several Russian newspapers quoted unnamed sources in the Defence Ministry, Interior Ministry and several state law enforcement agencies as saying that there was a ban on employees going on vacations abroad.
Russian officials quickly dismissed these reports as untrue, but some details emerged from the subsequent explanations.
Nikolai Partrushev who heads Russia's Security Council said that no travel bans had been imposed in any government department. The official added, however, that such restrictions had been pondered but only for those who had access to state secrets.
The Federal Drug Control agency said that its directors only asked staff to pay attention to a recent release in which the Foreign Ministry asked Russian citizens who suspected that they could have conflicts with US justice to abstain from travelling to countries that have valid extradition agreements with the United States.
The Interfax news agency quoted an unnamed source in the Interior Ministry as saying that the ban existed, but it was classified and only concerned officers with high security clearance.