Year in review: Medvedev sums up cabinet's work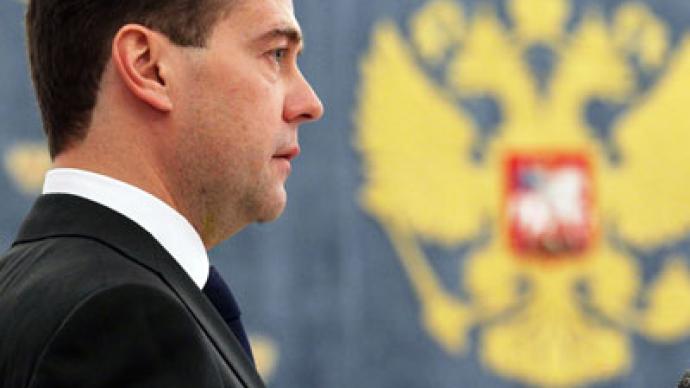 President Dmitry Medvedev has praised the government's achievements in tackling unemployment and inflation and urged it to keep working on fighting corruption and improving the investment climate.
Speaking on Tuesday at the final government session before New Year, Medvedev set up future tasks for the ministers. If Prime Minister Vladimir Putin wins the March 2012 presidential poll, Medvedev is likely to replace him in the post of the chairman of the government.
Medvedev observed that Russia's membership in the World Trade Organization means that the government should learn to work in new conditions.
The president admitted that there are many problems that should be addressed by the current government as well as by a new cabinet, with corruption and an unfavorable investment climate topping the list.
"First of all, I'll name the investment climate, which, in my opinion, must be significantly improved," Medvedev said. "We haven't managed to change it and this is a future task."
The head of state also admitted that corruption remains one of the key problems of the state machinery and it must be fought against using "most radical methods."
However, the meeting was not all about criticism. On the contrary, the president described the government's work as "excellent".
Medvedev pointed out that the past four years were uneasy for Russia, but thanks to the authorities' well-coordinated work, the country has overcome the consequences of the 2008 global financial crisis. The president also expressed confidence that even though there are new serious challenges ahead, "we have all necessary power and abilities to counter them."
Medvedev specifically noted the government's success in ensuring GDP growth, reducing inflation and unemployment rate. The beginning of work of the Customs Union between Russia, Belarus and Kazakhstan is yet another positive result of the 2011.
Prime Minister Putin, speaking at the meeting, confirmed that the aftermath of the crisis in the Russian economy has been overcome by the end of this year.
"It cost us much effort to get out of the hole into which the crisis had dragged us but by the end of this year the effects of the global economic crisis were overcome in the Russian economy," he said, as cited by Interfax.
He also said that preserving public and civil consent and the improvement of living conditions are top priorities for the Russian leadership.
"I'd like to underline once again, that only if we act together, as a single team, will we manage to solve most ambitions tasks aimed at subsequent improvement of the quality of life of the citizens of our country," Putin stated. "Communication with people is particularly important. We must hear them."