Medvedev demands action on address proposals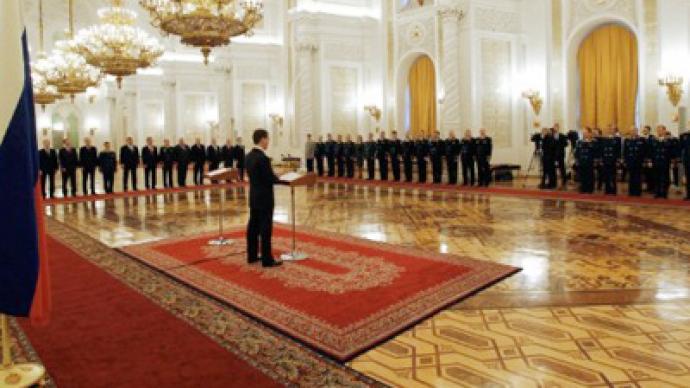 President Dmitry Medvedev has instructed his staff to put into action the recommendations he made during the annual presidential address to the Federal Assembly, the Kremlin press service reported on Wednesday.
In particular, Medvedev instructed Sergey Ivanov, newly-appointed presidential chief of staff, to prepare federal bills that pave the way for gubernatorial elections, as well as establishing "proportional representation" to voters in Russia's 225 districts.

Specifically, the Russian leader called for "elections of the heads of the top executive government bodies of the entities of the Russian Federation based on the will of the people living in the territories of the relevant entities of the Russian Federation," and "the amendment of the State Duma elections procedures based on the need to establish proportional representation of voters in 225 territorial districts."

Medvedev has given his chief of staff until February 15 to prepare the necessary legislation.

On the subject of public television, Prime Minister Vladimir Putin and Sergey Ivanov have been tasked with presenting "proposals on establishing public television, particularly on the basis of one of the federal channels" by March 1, 2012.

In other recommendations, Medvedev is pushing for a federal bill that regulates large expenditures by government officials, taking into account the correlation between these expenditures and the incomes they declare. The Russian leader wants to expand the list of officials whose incomes are subject to mandatory declaration.

Medvedev has set a deadline of April 15, 2012 that the according legislation be sent to the State Duma for consideration.

The Russian leader is also demanding measures be taken to restrict transactions between government institutions and commercial organizations whose major shareholders or executives are close relatives of the heads of the relevant government institutions.