Moscow wants Belarus to release Russian citizens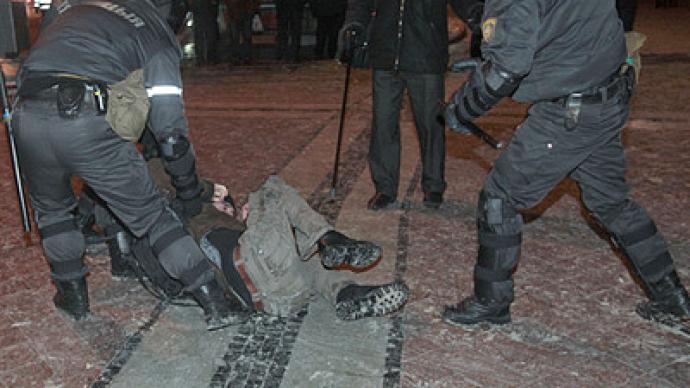 The Russian Embassy in Belarus is stepping up efforts for the release of Russian nationals arrested during post-election protests in the capital, Minsk.
­"We expect that all arrested Russian nationals will be freed as soon as possible," says the statement on the Russian Foreign Ministry website.

"We are perfectly aware how Belarus authorities qualify the events in Minsk. No need to comment on this," said Russian presidential aide Sergey Prikhodko.

Earlier, Russia's ambassador to Belarus, Aleksandr Surikov, admitted that the actions of the Belarusian authorities toward Russians detained on December 19 were "justified".

The diplomat said Moscow is aware that a rally in the capital Minsk following the presidential election was not sanctioned, so its participants were in breach of administrative legislation.

"Whether they were protesting or not, the fact of being there is an administrative offense," Interfax quoted Surikov as saying.

All Russians who remain in custody are trying to appeal the court's decision, and the Russian embassy is assisting them, Surikov said. He added, though, that the arrests of Belarusian citizens are the country's "domestic issue".

On Friday his statement was followed by rather harsh words by Sergey Prikhodko.

"I would like to stress that the ambassador's job…is the appropriate and unconditioned defense of the lawful rights and interests of all Russian citizens with no exception," said Prikhodko. "The embassy in Minsk has clear instructions to intensify their work in this direction."

Eleven Russians were reportedly arrested, although earlier information suggested nine.

The Russian embassy requested Belarusian authorities release the Russian nationals. How many of them remain behind bars is not clear, as all of them were sentenced to between five and 15 days in custody for taking part in the unsanctioned rally. Among those arrested was a St. Petersburg journalist Aleksandr Astafiev, who has already been released after four days locked up.

Mass rallies were organized in Minsk on December 19 by opposition members who do not recognize Aleksandr Lukashenko's victory. Around 30,000 people took to the streets and almost 600 were detained.