Duma speaker calls for urgent reform of PACE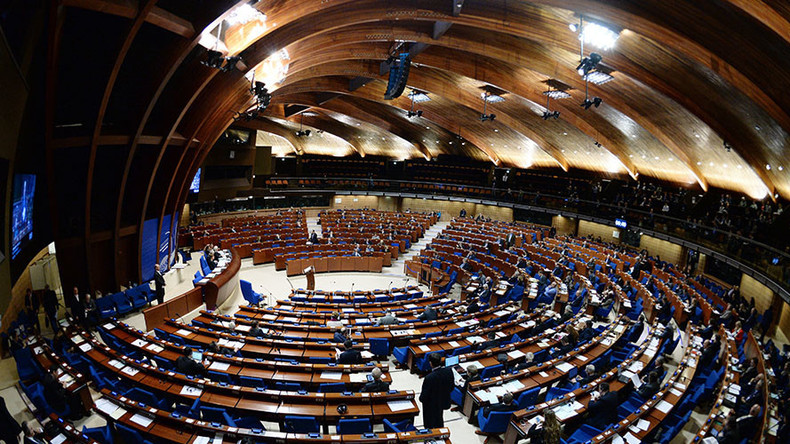 The speaker of Russia's lower house has called for radical changes to the Council of Europe's Parliamentary assembly, warning that the body risks becoming a "marginal site" totally dependent on "Atlantic forces."
"The United States is trying to deprive other nations of time required for evolutionary development, forcing them into making sudden leaps. The experiments in revolutions are being made in many nations, even in their natural partners such as the countries of the European Union," Sergey Naryshkin wrote in the article published on Friday in the Komsomolskaya Pravda daily.
"It seems that the transatlantic plans to achieve absolute domination have transformed into an unhealthy maniacal idea," he noted.
READ MORE: PACE monitors not expected at State Duma elections – top Russian MP
Naryshkin also wrote that in order to achieve this domination, the United States was skillfully using modern information technology in the propaganda field without any respect towards the sovereignty of independent nations or the principle of non-interference into their internal affairs.
"There are no morals or respect for international law in this situation. We cannot describe it as democracy," he wrote.
The speaker went on to state the necessity of breaking the artificial connection between the internal politics of European nations and the processes developing in the international politics.
"While accepting the evident fact of ongoing globalization, sovereign nations must seek some constants in their economic and political systems that would guarantee their future from the influence of destructive mechanisms launched from the outside," Naryshkin stated.
He then gave an example of such mechanism saying that the so-called "transatlantic forces" were aggressively imposing their will on European organizations and this resulted in the situation in which European groups distance from their original goals, lose their sovereignty and get staffed by people who are dependent from the "transatlantic forces."

"The most vivid example of such organization is the Parliamentary Assembly of the Council of Europe. Only a key reform of this structure can put it back on the way of normal development and prevent it from becoming a completely marginal site," Naryshkin wrote, noting also that the full restoration of the Russian delegation's rights in PACE could be the first indicator of improvement.
The Duma chief stated that Russia is inclined towards constructive dialogue with its European partners and the United States, but only on condition that this will be a dialogue of equals. He also emphasized that Russia was against the movements promoting disintegration in Europe as such process carried a lot of regional risks.
"We are interested in greater stability of our partners, both as national states and as unions of such states."
Russia's relations with PACE soured in April 2014 after the assembly approved an anti-Russian resolution on the political crisis in Ukraine. PACE also deprived the Russian delegation of the right to vote and banned it from participating in the group's ruling bodies and monitoring missions.
Russian lawmakers responded with a resolution stating that nations that have repeatedly violated international law and caused thousands of casualties have no moral right to judge Russia or impose sanctions on it. After the scandal, Russian delegation members left PACE because they considered it impossible to resume discussions while sanctions were still in force.
READ MORE: Communists propose Russia exit from PACE 'to stop negative influence'
However, Russia still remains a member of the Council of Europe and Russian officials have repeatedly stated that the relations can be improved if other members of this group stop their discriminating actions.