St. Petersburg lawmaker wants Russian children to study traitors' stories in school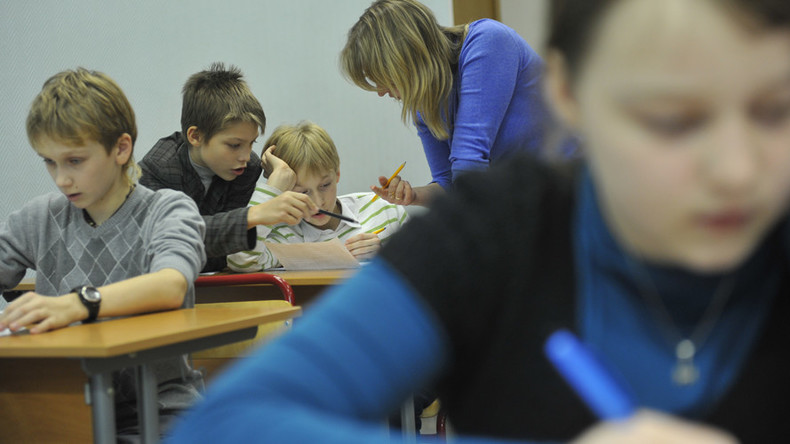 A Russian municipal councilor has urged the Education Ministry to launch a separate school course describing the lives of "traitors of national interests," claiming this information is important for the value system of the younger generation.
The letter to the ministry, prepared by St. Petersburg City lawmaker Vitaly Milonov and quoted by Izvestia daily, reads that 'traitors studies' must concentrate on the modern period of Russian history, in particular the collapse of the USSR and the roles of certain people in this event, the separatist movements of 1990s and their leaders, and also people who opposed the reunification of the Russian Federation with the Republic of Crimea in 2014.
"We must pass to our children the proper appraisal of all historical processes and all personalities who have affected our modern lives. The purity of the color white can be estimated only in comparison with the darkness of black," Milonov writes in his letter.
READ MORE: Russian anti-gay lawmaker challenges Sir Elton John to verbal duel
The politician also said in comments that in his view modern historians simply lacked the courage needed to describe certain personalities as traitors to Russian national interests. He also gave examples of people he wanted to see in the proposed school course – from Ukrainian nobleman Ivan Mazepa who sided with the Swedes in the 18th century war against Russia, to Nazi collaborator General Andrey Vlasov and modern Russian politician Maria Gaidar, who moved to Ukraine after the 'Maidan' coup of 2014 and started work in the Odessa City administration under former Georgian president and notorious anti-Russian activist Mikhail Saakashvili.
Experts in the education sphere have told reporters that though Milonov's initiative could be approved for the pre-revolutionary period of Russian history, appraisal of more modern events would be more difficult.
Milonov is well-known in Russia and abroad for his Christian fundamentalist position and for his role in the nationwide approval of the law banning the promotion of homosexuality to minors.
READ MORE: Gay activist sues St. Pete politician as controversial bill endorsed
The law was first adopted in Milonov's home city of St. Petersburg and then throughout the Russian Federation. Milonov's other legislative initiatives included a bill outlawing child beauty pageants, forced resettlement of homeless people to rural areas, a campaign against fake accounts on social networks and many more.
In late 2015, Milonov announced the foundation of a major international human rights association that would bring balance to the international human rights sector, currently dominated by Western organizations that "only protect private political and economic interests and completely forget about their main task – helping ordinary people."
He claimed that he had secured participation of several of foreign politicians and representatives of some countries, such as Cyprus and Lebanon.
READ MORE: Faith defender: Orthodox politician seeks ombudsman post for traditional religions

In May last year, Milonov told reporters that he had prepared a bill to create the position of 'ombudsman for believers' rights', who would defend followers of Russian Orthodox Church, Islam, Judaism and Buddhism. The lawmaker noted that once appointed, this official could counter and prevent the attacks and provocations by various malcontents who wanted to start a religious strife and instigate hatred towards the most widespread religions.