Interpol asks Russia for papers on Khodorkovsky search warrant - source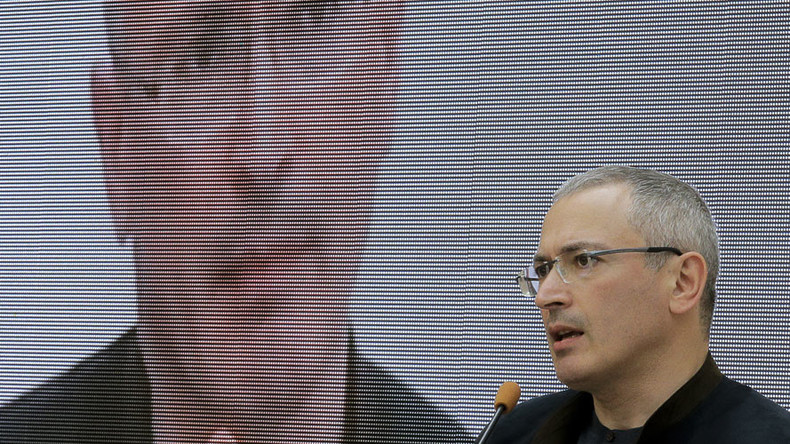 Interpol may reconsider its refusal to put former oligarch Mikhail Khodorkovsky on the international wanted list and has already asked for additional materials on the murder case in which he is a suspect, a source in the agency has said.
"Interpol has made a statement that it's ready to reconsider its position on adding to the international wanted list the former head of YUKOS oil company, Mikhail Khodorkovsky, who's now facing charges of complicity in the assassination of the mayor of [Siberian city of] Neftyugansk," an unnamed source "acquainted with the situation" told Interfax.
The source added that the changes in Interpol policy took place after talks between the international police organization and Russian representatives in Lyon a short time ago.
Khodorkovsky's press secretary Kulle Pispanen told reporters that she was not aware of Interpol's intention to reconsider issuing a search notice on her client. She went on to attack the report as a deliberate hoax and said that the only information worth noticing should be coming not from sources, but from Interpol itself.
The report was confirmed on Monday afternoon by the spokesman for the Russian Prosecutor General's Office, Aleksander Kurennoy.
Kurennoy told Kommersant daily that the meeting between representatives of his agency and Interpol officials took place in Lyon in mid-April, and said that Interpol had expressed readiness to look into Khodorkovsky's case again once they receive the additional materials they have requested from Russia.
The Russian branch of Interpol declared Khodorkovsky 'wanted' in February this year after local law enforcers reopened the case into the killing of murder of Vladimir Petukhov – the mayor of Neftyugansk, who came into conflict with Yukos stakeholders and managers, and was killed on June 26, 1998, Khodorkovsky's 35th birthday.
READ MORE: Interpol issues search notice for Khodorkovsky – Russian agency

In late December 2015, the Russian law enforcement agency dealing with especially serious crimes – the Investigative Committee – said that the former Yukos chief had been arrested in absentia and put on an international wanted list. The agency spokesman elaborated that Khodorkovsky was suspected of conspiracy to murder two or more people – a crime that can carry a life sentence in Russia.
The request to issue an international search notice for Khodorkovsky was forwarded to Interpol's headquarters in Lyon, but back then the agency rejected it, saying the case could be politically-motivated.
In 2013, Russia tried and sentenced five people over complicity in Petukhov's murder, including former Yukos stakeholder Leonid Nevzlin and former head of Yukos' security department Aleksey Pichugin. The probe into the hit continued because investigators wanted to reveal their accomplices and primarily who ordered the assassination.
READ MORE: Searches conducted in homes of Khodorkovsky's Open Russia movement members

Once Russia's richest person, Khodorkovsky was arrested in October 2003. Following a lengthy trial, in 2005 he was convicted of tax evasion and sentenced to nine years in prison. In 2009, Khodorkovsky was charged with embezzlement and money laundering. The second trial ended in late 2010 with a sentence of another 14 years, minus the term that he had already served. After another legal battle, the final ruling cut the sentence to 11 years.
In December 2013, Khodorkovsky was pardoned by President Vladimir Putin and left Russia for Germany to visit his elderly mother. Later he moved to Switzerland, which is now his main place of residence.