Russians fear poverty more than war recent poll shows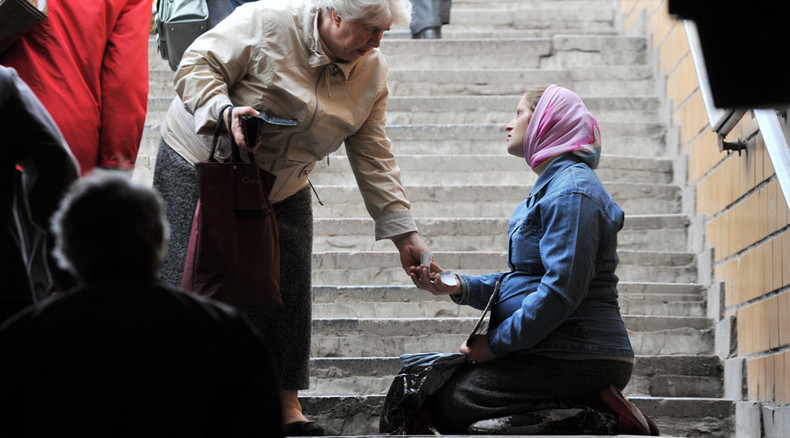 Research conducted in August this year demonstrates that the level of anxiety in society is lessening to some extent, and that most Russians fear poverty more than a new world war.
Independent polling agency, the Levada Center, asked Russian citizens to rate how much they fear various possible events, from unemployment to death. On average anxiety levels on a range of issue are down, with the fear of a global military conflict apparently the least worrying.
The biggest angst currently bothering Russians is that their children or relatives could fall ill (3.93 points on a 5-point scale). Anxiety about their own health comes next with 3.28 points, while worry over poverty is down in third place with 3.21 points. Disquiet regards a new world war came fourth with 3.16 points, and the fear of death trailed in fifth with 2,98 points.
READ MORE: Official statistics claims lower poverty in Russia
Deputy director of the Levada Center, Anatoly Grazhdankin, told the Izvestia daily that the fear of a world war had dropped from second to fourth place in the rating since last year. The researcher said the fall in anxiety might be connected with the change of the political situation near Russia's western borders, with active combat taking place in Donetsk and Lugansk regions in southeastern Ukraine. As the war in Donbass has abated slightly, the fear of war in Russia has also subsided, along with other causes of anxiety.
Grazhdankin added that Russians had more confidence in stability inside the country, compared to 2012 when its street protests perpetuated worries into 2013.
Despite the significant depreciation of the ruble and a hike in inflation, the fear of loss of personal savings was also waning in 2015 compared to 2013 and 2014 (2.58 points versus 2.87 and 2.8). The fear of unemployment was also down to 2.67 points from 2.71 in 2014 and 2.93 in 2013.
READ MORE: Russians see 1991 coup as national tragedy, but like subsequent developments
Russian state statistics agency Rosstat released its own report on Wednesday saying consumer prices in the country have risen by 9.4 percent since the beginning of the year, compared to a 5.6-percent rise over the same period in 2014. The number of poor people in the country has increased and the number of the rich has decreased, the report reads.
In June this year, Deputy Prime Minister Olga Golodets said in a television interview that the number of people living below the official poverty threshold (9,662 rubles or about $150 per month) had reached a record 22 million. The official called the situation critical but noted the figures could be distorted - of 75 million Russians of working age, only 48 million were registered as tax-paying participants in the labor market.