Yabloko party wants founder Yavlinskiy to run for presidency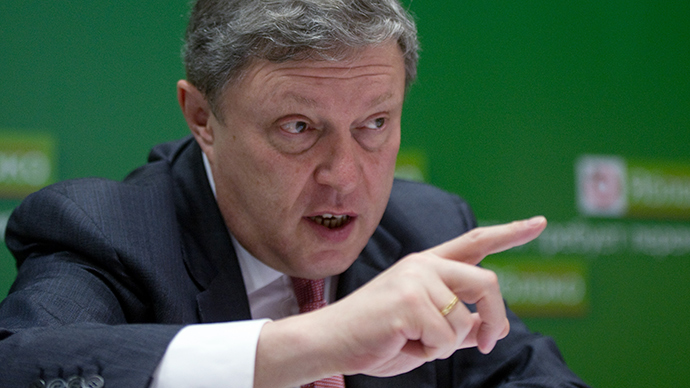 The veteran Russian liberal Yabloko party has announced it will back one of its founders, Grigory Yavlinskiy, to run in the 2018 presidential elections on a pacifist and anti-oligarchy agenda.
The decision to register Yavlinskiy as a candidate to run in the 2018 presidential election was made by Yabloko's political committee and published on the party's website. However, the message also reads that a final decision on the issue will be made at the next party congress.
The political committee stated in their message: "The only effective political decision that has some perspective" was to create an alternative to Vladimir Putin. They added that Yavlinskiy was a perfect candidate for this as he was capable of uniting "all voters with democratic leanings."
In the message, the party defined their leader's program as opposition to the "Russian authoritarian and oligarchic economic and political system."
According to the authors of the plan, despite extensive experience in politics Yavlinskiy managed to keep an untarnished reputation and remain free of any associations with oligarchy or corruption.
Yabloko is one of the oldest political parties in modern Russia. Founded in 1993, it always targeted a liberal-minded voter and several times managed to get minor parliamentary representation. In the last parliamentary poll, Yabloko garnered over three percent of votes, which didn't grant it any seats but gave some procedural preferences for future elections.
READ MORE: Yavlinskiy says Yabloko party only alternative to United Russia
Grigory Yavlinskiy was among the party's three co-founders and headed it until 2008 when he stepped down and gave way to his longtime deputy Sergey Mitrokhin. Yavlinskiy still remains in Yabloko's political council and regularly represents the party at various events.
Yavlinskiy is no stranger to Russian presidential elections. In 1996 he got 7.4 percent of the votes and in 2000, 5.8 percent. He also registered as a candidate in 2012 but the authorities removed him from the polls after a large share of supporters' signatures provided by his headquarters were deemed invalid.