​'Olympics, int'l events are attractive targets for terrorists'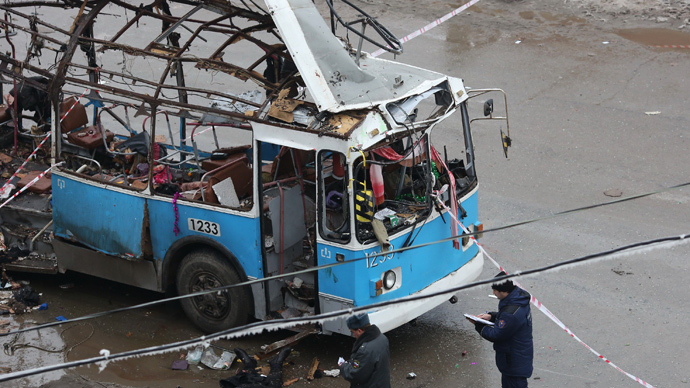 In the wake of Volgograd suicide bombings which killed over 30 people, the Caucasus region has been thrown back into the spotlight. But the attacks actually reflect a widening of the terror campaign, James Corbett, editor of The Corbett Report, told RT.
RT:Do you think big international events like the Olympic Games are a major attraction for terrorists?
James Corbett: Of course such events as the Olympics do present an attractive target because the world's eyes are really on whatever city is hosting it. We have to look at these current bombings in Volgograd as a potential spreading and widening of the trouble that has been taking place in the North Caucasus region. But I think what these blasts really indicate is a widening of that threat and an expansion of it into the city that is beyond the North Caucasus region itself, where those types of attacks are more common, into a transport hub that connects the North Caucasus to the rest of Russia. So it has to be seen as an implication at least of the widening terror campaign.

RT:The July 2005 London bombings also targeted the public transport system, just like the attacks in Volgograd did. What do those similarities tell us?

JC: Well, not a lot because there are a lot of different events that we could look at, including the 1980 Bologna station bombing back in Italy, which of course was linked to operation Gladio which was run by NATO forces. And in fact, it's a rather sad irony of this entire event that current NATO Secretary-General Anders Fogh Rasmussen has just taken to Twitter to give his condolences to the people of Russia.

This is a sad irony because, of course, many Chechen rebels have been harbored through the EU political asylum in European nations and NATO countries themselves, including France, Poland, and Britain - where the of the former Chechen rebel leaders, Ahmed Zakaev, has been residing for a number of years now. So it's kind of ironic that that's happening.

RT:In London, the attacks were carried out by Islamic radicals. Is it the same case in Volgograd?

JC: Well of course the Islamic radicals are the ones that tend to carry out these attacks. But the ones that are directing, funding, fostering, and training them tend to be located elsewhere.

RT:Do you expect anyone to claim responsibility for the attacks in Volgograd anytime soon?

JC: I don't know if that will be coming, but as we know, of course these bombings are linked; we can tell that from the forensic evidence of the bombs themselves and the types of agents that were added to them. So there's no doubt that there is part of a terror message that is being delivered to Russia right now, and of course the fact that the Sochi Olympics are right around the corner is obviously a key component of that message.
The statements, views and opinions expressed in this column are solely those of the author and do not necessarily represent those of RT.