​Sen. McCain, interventionism's 'Energizer Bunny'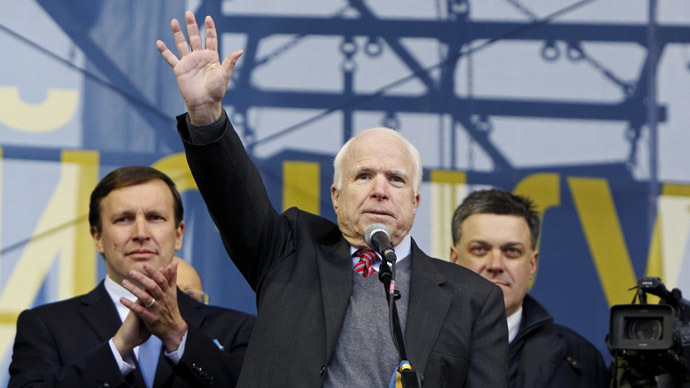 If there are US-backed groups anywhere seeking the overthrow of their government, you will find John McCain in their midst. He is the Energizer Bunny of interventionism.
Fresh off his trip to Libya, where he was granted an award by the military on the same day the Libyan parliament declared Sharia law, McCain was this weekend on the streets of Kiev.
McCain walked among the protestors, giving encouragement to those who have occupied and trashed government buildings in attempt to overthrow the Ukrainian government. "I am proud of what the people of Ukraine are doing," he said.
Of course, when peaceful antiwar protesters showed up at McCain's own Senate office in 2007, he promptly had them arrested.
For those who may not know, McCain is the long-time chairman of the US government funded International Republican Institute, which spent millions supporting the Orange Revolution 1.0 in 2004. Now McCain (and his IRI) is back for 2.0.
Along with IRI's parent organization, the government-funded National Endowment for Democracy, and USAID, you can find the material and organizational support for the current uprising in Ukraine. Glance at the websites of opposition-oriented "NGOs" like the Institute of Mass Information, Internews, Uniter, and many others and you will see the ubiquitous logos indicating US government funding of the Ukrainian opposition. You can also see the US government funded – and CIA-affiliated - Freedom House among the most prominent opposition supporters in Ukraine.
Senator McCain always seems to find himself in awkward meetings when he travels - remember the kidnappers he met in Syria who he claimed were good moderates? So it is unsurprising that upon landing in Kiev he rushed to meet Oleh Tyahnybog, a representative of one of the leading opposition political parties, Svoboda. An extreme nationalist party, Svoboda members are fond of wearing t-shirts with slogans such as "Beat the zhids!" using a derogatory term for Jews. Did they give McCain a t-shirt?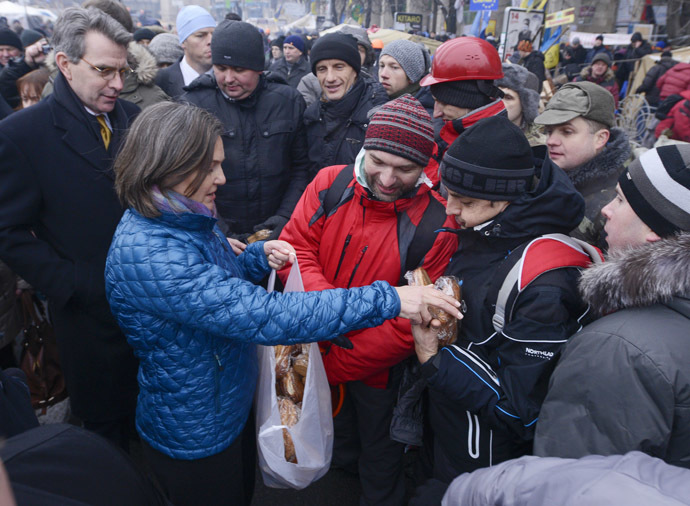 McCain also spent time with the US-favored "Fatherland" party leader, former economy minister Arseny Yatsenyuk. Fatherland is in fact an ally of Svoboda and closely coordinated their activities in the most recent Ukrainian presidential campaign. They are considered no less anti-Semitic than Svoboda but perhaps less outwardly so.
As McCain joined an anti-government demonstration, saying "we are here to support your just cause," he threatened the government of Ukraine with US sanctions if it did not come to heel. Then, with his typical absence of irony, McCain demanded Russia stop interfering in Ukraine's internal affairs.
McCain's visit to the barricades in Kiev closely follows the visit of another US official, Assistant Secretary of State for European and Eurasian Affairs, Victoria Nuland, who made her way through the opposition compound with the US Ambassador to Ukraine, openly expressing US official support for their actions. In a show of support for those seeking to overthrow their government - and in blatant violation of diplomatic norms - Nuland was even seen handing out cookies to the opposition supporters in the street.
Later, she issued a statement in which she characterized the move to overthrow the Ukrainian government as "historic", going on to state:
"I hope the people of Ukraine know that the United States stands with you in your search for justice, for human dignity, for security, for economic health and for the European future that you have chosen and you deserve."
Not to be outdone, McCain released his own statement saying of the protestors:
"Those brave men and women should know that they are not alone. Their friends across the world stand in solidarity with them."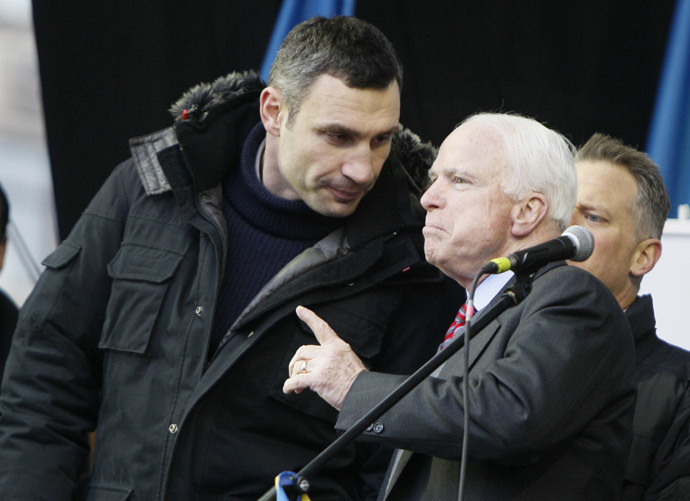 It was an echo of McCain's infamously idiotic statement at the start of the Georgia-initiated war with Russia that "we are all Georgians now".
Whether or not we non-Ukrainians support the opposition's attempts to force that country into the EU bloc, one thing should be indisputable: the steady stream of US and European politicians and government officials openly encouraging Ukrainian citizens to revolt against their government is an outrageous violation of Ukrainian national sovereignty.
What would the reaction have been in the US had Russian President Vladimir Putin and the president of Iran at the time, Mahmoud Ahmadinejad, flown in to the "Occupy Wall Street" protests a few years ago and encouraged the protestors to overthrow the US government? Would the president - and the US military - have stood idly by in such a situation?
The statements, views and opinions expressed in this column are solely those of the author and do not necessarily represent those of RT.
The statements, views and opinions expressed in this column are solely those of the author and do not necessarily represent those of RT.
You can share this story on social media: