US-China cyber espionage comes under increased scrutiny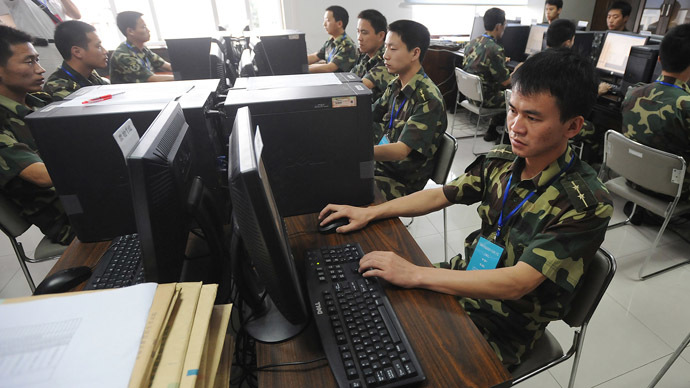 A new report accusing China of continuing cyber espionage against America is being prepared for the US Congress as more details on the NSA's eavesdropping empire are disclosed worldwide, ruining the US's image among its allies.
The US-China Economic and Security Commission, a panel advising the US Congress on China policy, is claiming that hackers of China's People's Liberation Army (PLA) continue to intrude into American networks, stealing vital business scientific and military information.
In February 2013, a private cyber security company, Mandiant, made a sensational revelation, claiming in a report that the PLA's secretive Shanghai-based Unit No. 61398 is responsible for a wide range of cyber-attacks against US networks that resulted in stealing of hundreds of terabytes of data from some 141 organizations since 2006.
The US government has a number of intelligence agencies with multi-billion dollar budgets and global reach that might have a better knowledge of Chinese cyber activities in the US, such as the National Security Agency, for example. But that data the US keeps to itself, and US media has been quoting Mandiant's revelation throughout 2013.
But former NSA contractor Edward Snowden's revelations about the NSA spying on US allies, including major trade partner China and NATO allies and their political leaders worldwide, have changed the rules of the game, prompting a flood of indignant complaints directed at Washington.

The information bomb under the NSA detonated in June just days ahead of a meeting between President Barack Obama and his Chinese counterpart Xi Jinping, putting the American leader in an awkward position, since cyber security was on their agenda.

According to estimates by the US-China Economic and Security Commission, Snowden's revelations on the NSA cyber operations against targets in China and Hong Kong "would set back efforts to address Chinese cyber-attacks by six months to a year," Reuters reported.
Probably that is the reason why a fresh strain of mutual accusations between Washington and Beijing is looming today. The US-China Economic and Security Commission is now claiming that Mandiant's revelations in early 2013 only prompted China to suspend its cyber incursions temporarily, with Beijing later reactivating its cyber-attack unit.
"There are no indications the public exposure of Chinese cyber espionage in technical detail throughout 2013 has led China to change its attitude toward the use of cyber espionage to steal proprietary economic and trade information," Reuters cited the commission's draft report to Congress as saying.
The commission says PLA cyber warriors have changed their tactics to make "future intrusions harder to detect and attribute," also referring to Mandiant's experts who claimed that their revelation forced Chinese military hackers to curtail their activities for only a month.
"They are still stealing the same type of data from the same industries," Mandiant spokeswoman Susan Helmick told Reuters on Wednesday, adding that the Chinese cyber-attackers have updated their software and methods of work.
As in February, China's official reaction to the latest accusations has been that of total denial. 
"Cyber-attacks are transnational and anonymous," said Geng Shuang, a spokesman for the Chinese Embassy in Washington. "We don't know how the evidence is collected in this report," he said.
Western media has also sought to portray China as being at the center of cyber espionage.
Newsweek claims that Edward Snowden's revelations have escalated the cyber-war between the US and China, warning that "China's relentless campaign to steal valuable, confidential information" from US corporations "might never be stopped."
The Epoch Times has recently published a report about China's "cyber black market" where anyone can buy any hacker service, including a chance "to watch someone through their webcam" as hackers sell access to computers with cameras.
Beijing also seems to give as good as it gets, with the Chinese government's official mouthpiece Xinhua making fun of US efforts to wiretap all communications. 

Ivan Fursov, RT