Ex Met officer: Ukraine police 'had no option but to react in the way they did'
The minute peaceful protests start becoming violent as they are now in Ukraine, with extreme violence directed at police officers, the latter have to retaliate, Simon Foy, a retired senior officer for London's Metropolitan Police, told RT.
Commenting on the current situation in Kiev, Simon Foy says that the situation has very quickly got out of hand and the riots were "relatively peaceful one minute and then completely violent and disordered in another." He claims that in extremely violent situations like in Kiev the police have to go on the offensive.
"I guess this is really the police somehow standing between the tension, between letting people have a lawful protest, which I think everybody wants to do. But the minute it starts becoming violent the way those protests have done, then they have no option but to react sometimes in the way they did," Foy told RT.
Simon Foy outlined two major obligations of riot police when situations get out of control.
"Once the situation does get like that, then there are two primary aims: the first is to restore peace quickly, in whatever way you can, get the demonstrators moved away, broken up, arrested, whatever; the second primary aim is to do it as safely as possible for the public, first, and then for the officers, second."
However, more than 300 police officers have already been injured in Kiev, where the violence has been continuing for five days. Ultranationalists, the most active and radical part of the Ukrainian opposition, are constantly attacking the police using Molotov cocktails, firebombs, knives, baseball bats and shots from trebuchets [kind of catapult] constructed in Independence Square (Maidan).
"When you get back to the violence being used against the police officers in many ways, it's not surprising that they have reacted as vigorously as they have. It's not very nice, it doesn't look very good and indeed a lot of policemen in Kiev were injured as well," he added.
Such violence should be condemned by the West, which is not happening, points out Marcus Papadopoulos, publisher of 'Politics First'.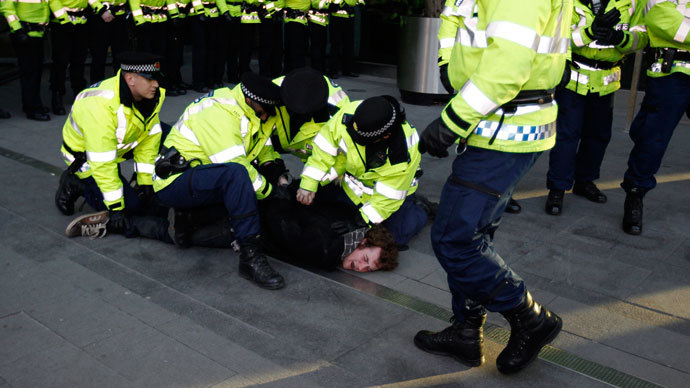 "I would just like to make it clear, we have seen footage in the last 24 hours of protesters setting fire to police officers or protesters jumping on police officers and clapping them with baseball bats, and it's absolutely appalling, that's not what we should see in a modern democratic society. And I would expect American and European politicians to condemn those acts of violence," Papadopoulos told RT.
Christoph Hoerstel, government and business consultant, argues that the Ukrainian government displayed great patience and prudence when it didn't take harsh actions to suppress the unrest immediately.
"As it's heading now towards more violence, it becomes very important that the government continues to act prudently. And we see a lot of violence from ultraradicals using Molotov cocktails, big sticks, heavy stones, so we have all these injured people on the side of the police… that means a great patience on the government's side and it seems to [be coming] closer to the end right now," Hoerstel told RT.
Displaying patience, according to Foy, is "the sort of thing that the police like to be seen to do, because after all people are legitimately protesting."
"And whatever the source of the protest is, people around the world should have a right to protest to make their views known peacefully. If the police officers are actually playing their role and just making sure that it's going peacefully for as long as possible then that's a good thing," he added.
The British police have fundamentally different tactics in such situations, Foy says, though his colleagues in the Metropolitan Police have recently made a suggestion to the Mayor of London that they should also have recourse to tactics like water cannon.
"Our tactics tend to be that wherever possible we get up as close to the demonstrators in the first instance. If you are close to people in peaceful mode so to speak, then it tends to inhibit the violent behavior for attacking and we can get to people very quickly if they are the ones starting the disturbance," he told RT.
"What the police on the continent do, and I believe have been doing here [in Ukraine], is that they always keep a certain distance between themselves and the rioters, probably for their own safety, but then to allow them to deploy, as they have done, other tactics. The only difference is that the British police would have tucked up quite close to the demonstrations in an effort to keep it from going down the violent route, which it's gone," Simon Foy said.
The statements, views and opinions expressed in this column are solely those of the author and do not necessarily represent those of RT.